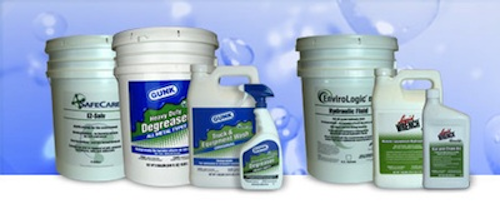 For fleet management, RSC Bio Solutions manufactures and distributes non-hazardous, biobased cleaning, degreasing, and automotive lubricant products for applications where both high performance and safety are essential. The company was launched in 2010 by the owners of Radiator Specialty Company (RSC), the 86-year-old company that houses the Liquid Wrench and Gunk brands.

RSC Bio Solutions is a line of readily biodegradable fluids for fleet management that work without compromise and provide a safe alternative to petroleum-based formulas. These powerful chemicals deliver an enhanced level of safety and business efficiency, reducing workplace hazards and costs across a wide spectrum of applications ranging from waste management and utility fleets to golf course maintenance.

RSC has researched and planned its expansion into the emerging fleet maintenance biobased fluids industry for several years. RSC developed strong partnerships with two industry leaders - Gemtek® and Terresolve™- that are committed to delivering high-quality products with a combined 30+ year track record of performance in the biobased specialty products market.

Through the Gemtek® partnership, RSC Bio Solutions is now the exclusive North American licensee of Gemtek's SafeCare® technology for cleaners, degreasers, and solvents in the industrial market. The Terresolve partnership involves an investment of growth capital and a minority ownership in the company. In addition, the Terresolve EnviroLogic® brand of industrial lubricants is now available to RSC customers.

RSC is manufacturing ready-to-use, non-hazardous, Gunk® Powered by SafeCare® and Liquid Wrench® Powered by EnviroLogic® products formulated for industrial applications. The new Gunk® Powered by SafeCare® line features biodegradable industrial cleaners, degreasers, solvents, and specialty products that extend the life and performance of equipment and tools. Liquid Wrench® Powered by EnviroLogic® products are non-hazardous high-performance industrial lubricants and functional fluids – including hydraulic fluids, gear oils, and greases – that will not harm soil or water if spilled during use.
For more information about RSC Bio Solutions or other fleet maintenance products, click here to go to Utility Products' Buyers Guide.