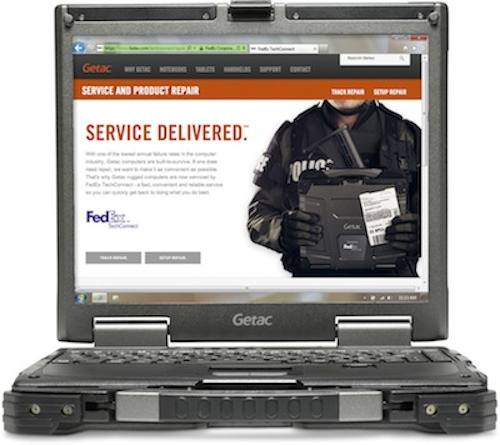 Irvine, Calif.—Getac, an innovator and manufacturer of rugged computers, and FedEx Corp. (NYSE: FDX), announced today that Getac has chosen to incorporate repair, refurbishment, and logistics services by FedEx TechConnect for Getac's fully rugged notebook, tablet and handheld computers that meet the demands of field-based applications.

"The new FedEx TechConnect program will be a strong addition to our industry-leading 5-year bumper-to-bumper warranty," explains Jim Rimay, president of Getac, Inc. "Our customers are on the front lines of some of the most hazardous, demanding, and time-sensitive professions in the world. Consolidating the numerous steps of packing, drop-off, diagnosis, repair, and shipment entirely with FedEx provides Getac customers with unprecedented turnaround times and open system visibility for tracking both the transit and repair status online."

Getac customers needing repair, refurbishment, or system upgrades can link to the FedEx TechConnect service portal from the support section of the Getac website (us.getac.com/page-support). At the portal, customers can easily complete a repair authorization, print a shipping label, schedule a pickup or find any one of more than 1,800 FedEx Office locations where equipment packaging and shipping services are provided.

The Getac rugged computers can be shipped by FedEx Ground or FedEx Express to the FedEx TechConnect repair facility where they are repaired (sometimes the same day) and shipped back to the customer's preferred destination, with the near real-time status of the repair available throughout the process. For urgent repairs, customers can upgrade the manner of shipping and be back up and running in as little as 48 hours.

FedEx TechConnect is a FedEx solution that matured into a new line of business. For almost 30 years, the company's certified technicians have developed, repaired, refurbished and upgraded its own technology, including customer shipping technology, barcode scanners, laptops and select equipment from industry leaders.

"Our customers are telling us that in today's fully connected world, it is no longer acceptable to wait weeks for repair of operationally critical technology," said Cary Pappas, CEO of FedEx TechConnect. "Rapid, reliable transportation is important, but only a part of the solution. We bring everything together the parts, technical expertise, and manufacturer-approved practices with the same type of tracking for repairs that FedEx is known for with shipments, to create a turnkey technology experience that is unique to the marketplace. FedEx enables Getac to say to its customers, "Your equipment is in one of two places—in your hands, or ours."

In preparation for launching this service, Getac provided extensive onsite training to FedEx TechConnect technicians on Getac technology and features and the nuances of Getac computer products, certifying them to perform repairs. FedEx TechConnect quality assurance methodologies combined with Getac¹s 70-point inspection verify that everything is working properly. Following an initial test period, Getac opened the program to a beta group of select customers from major rugged vertical markets. Today, the service is not yet available to all Getac customers.

For more information about Getac or other computer repair/refurbishment, click here to go to Utility Products' Buyers Guide.