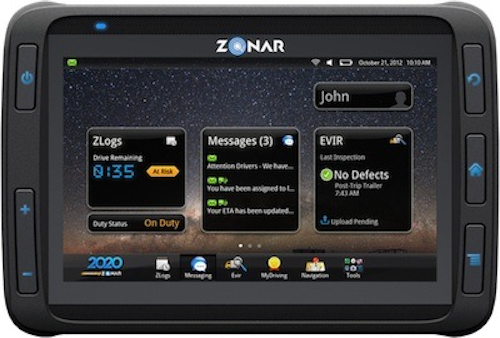 Seattle—Zonar, a provider of electronic fleet inspection systems, has revealed the 2020 telematics tablet. This innovative tablet is the first portable device to provide electronic inspection, hours-of-service, instant driver feedback, fuel efficiency, two-way messaging and advanced commercial navigation in an open platform that allows fleets to integrate other systems and customize its use.

The all-new 2020 provides fleet managers and drivers with the most powerful tool on the market to successfully enhance fleet efficiency and performance. Drivers improve productivity with advanced vehicle operation applications and an easy to navigate touch screen. Data captured with the 2020 is instantly available to fleet managers for powerful reporting and process improvements.

"This product is the most important advancement for Zonar since the invention of the patented, Electronic Vehicle Inspection Report (EVIR)," said Mike McQuade, Chief Technology Officer at Zonar. "From vehicle inspections to driver behavior, the 2020 is an all-in-one device that captures information throughout various aspects of fleet operations to provide managers with true fleet visibility and drivers with a versatile productivity tool."

Unique to the 2020 is the ability to ensure inspection compliance and streamline repairs with the patented Electronic Vehicle Inspection Report (EVIR) system. Drivers use the 2020's built-in RFID reader to scan tags placed at each vehicle inspection point. Drivers identify component conditions using the onscreen QWERTY keyboard and can send pictures of defects with the completed report. All inspection information is available to fleet and maintenance managers through Zonar¹s web-based Ground Traffic Control application.

While EVIR helps with inspection compliance, Zonar¹s ZLogs helps ensure hours-of-service compliance. Available through 2020 and new to Ground Traffic Control, ZLogs is an hours-of-service application that works to ensure drivers are operating within the limits of safety. Drivers can easily view available hours, update duty status, and electronically submit service records through the 2020 tablet. Specifically designed with the Federal Motor Carriers Safety Administration (FMCSA) in mind, the 2020 hours-of-service application meets the US DOT standards in 49 CFR Part 395.15.

The 2020 also provides two-way messaging to further enhance fleet productivity and improve communication. The two-way messaging feature includes in-boxes, message templates, and a grouping function for sending messages to specific groups of vehicles. Received addresses from two-way messaging can be tapped and opened up in the 2020 navigation program for accurate turn-by-turn directions.

With CoPilot Truck navigation developed by ALK Technologies on the 2020, drivers can make timely shipments and reach their destination quickly. An on-board solution featuring over-the-air (OTA) capabilities, CoPilot Truck allows drivers to calculate optimal truck-specific routes based on their vehicle profile dimensions, routing parameters and load-specific information (including hazmat categories), without the need for off-board computations. Up-to-date, street-level maps of the United States and Canada, enhanced with PC*MILER truck-specific attributes­are stored directly on-board the 2020 for constant, reliable access. Color-coded traffic alerts indicate areas where drivers should expect moderate or severe delays. Drivers can also easily locate the nearest fuel station or lodging with over 7 million Points of Interest stored on-board the 2020.

The navigation dashboard displays an hours-of-service clock and miles per gallon reading. Other notable 2020 features include a 16GB NAND Flash storage memory, 7 in. widescreen resistive-touch display, SD/MMC card slot, 5 megapixel camera with LED flash, video recording capability, in-cab training, Bluetooth, and built-in flashlight.

"While the 2020 encompasses an expansive set of functionality, customers also have the option of adding and customizing new applications," added McQuade. "The open platform provides the flexibility to develop applications that capture data unique to their fleet."

In addition to the available 2020 applications, customers have the flexibility to customize the tablet to their unique fleet needs. The Android operating platform provides a fast and easy medium to develop customized 2020 applications to collect additional fleet data. Customers can independently develop their own or engage Zonar to build applications on their behalf. With the ability to customize applications to deliver fleet specific data, the 2020 is a powerful and versatile tool in helping fleet managers effectively and efficiently run their operations.

"Zonar is passionate about innovating products that revolutionize the transportation industry and takes fleet management to a whole new level," added McQuade. "Not only does the 2020 tablet push the limits of transportation technology with fleet applications, tailored data, and verified inspections, it provides insights and visibility into aspects of fleet management that were never available before."

For more information about Zonar or other tablets, click here to go to Utility Products' Buyers Guide.