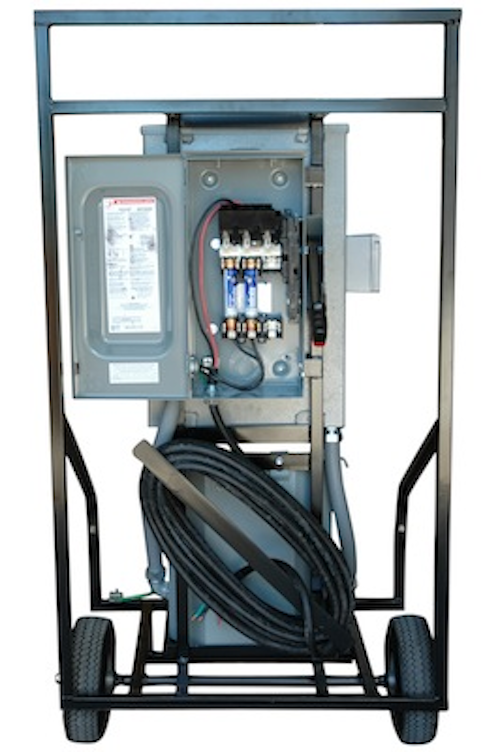 Kemp, Texas—Larson Electronics' Magnalight.com has introduced a temporary power distribution system that allows operators to tap into high voltage 480 VAC electrical current and step it down to useable single phase 120V. The MGL7-480-2X120V Temporary Power Distribution System is equipped with two 120 VAC outlets and includes integral breaker and fused protection for safe operation. This 7.5 KVA transformer is ideal for industrial operations where standard 120VAC is unavailable but required for the operation of equipment and lighting.

The MGL7-480-2X120V temporary power distribution system is designed to convert three phase 480 VAC power to single phase 120 VAC via a step down transformer with a 7.5 KVA load rating. This unit allows operators to safely tap into three phase 480 VAC power sources to provide power for equipment and lighting that requires 120 VAC. This unit connects to the primary 480 V power source through an included 25 foot long power cord fitted with a 30amp, 480v, 3 phase 4 wire male plug.

The main primary supply is controlled and protected by an on/off switch with fused disconnect for secure and safe operation. The 7.5KVA transformer steps the primary 480V current down to single phase 120 VAC which is fed through a 120 V, single phase load center protected by a single 125 amp main breaker.

Secondary output is made available through 2 20amp, 120v, GFI protected waterproof duplex receptacles. The load center and controls on this heavy duty step down transformer are housed within a Nema 4/12 rated enclosure for secure and reliable protection from the elements, and an optional glass door can be included to provide for easy inspection of the load center during maintenance.

This temporary power substation is easy to set up and easy to move thanks to a heavy-duty mounting cart fabricated of steel and fitted with two rugged rubber tires. Once on site, operators can simply roll this unit into the desired position and connect to the main power line, or move the unit as work progresses. The durable steel frame is grounded to the transformer and load center assembly, and features a heavy-duty finish to resist help rust and corrosion. Also included is a rear mounted cord rack that provides easy stowage of the 25 foot long power cord during transport.

For more information about Larson Electronics' Magnalight.com or other power distribution systems, click here to go to Utility Products' Buyers Guide.