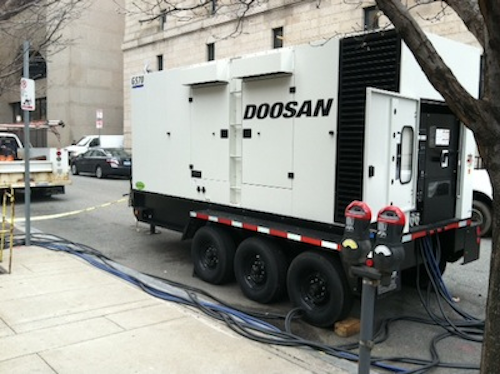 After an electrical transformer explosion and subsequent fire forced local utility provider NSTAR to cut electricity to a large area of downtown Boston earlier this year, backup power supplier ElecComm sprang into action. ElecComm — an electric and communications line construction company and provider of temporary emergency power serving much of New England — had just taken delivery of their first Doosan generator — a G570 — earlier that same day. With more than 50 portable generators among their equipment fleet, ElecComm is well-equipped to respond quickly in emergencies such as this; an unfortunate event that left an estimated 20,000 people and scores of businesses literally in the dark.

"All of our other generators were out that day," Patrick Manning, principal with ElecComm, recalls. "It was really a very fortunate and lucky coincidence that the Doosan generator we had ordered arrived that day. It's a great unit; we especially like the size. The G570 packs a lot of power in a small frame. Working with utilities, we often don't have much room to place generators, especially in urban areas."

With hundreds of people occupying the 12 buildings situated along this half-block, the dark, dreary evening of March 13 was quickly transformed to a vibrant center of activity once the Doosan G570 arrived on the scene. ElecComm's new Doosan G570 generator remained there for the next four days — largely unnoticed — quietly providing the power necessary to the block's occupants; allowing them to continue on with their daily lives largely uninterrupted.

"Most 500 kVA generators come in a much bigger package," Manning says. "But the G570, despite its compact frame, has the same capacity as competing models that are much more difficult to maneuver and take up a lot more area. The streets in downtown Boston are very narrow, so the G570 was the perfect fit in this situation."

The Volvo Rents dealership located in nearby Southboro, Mass., had called on Manning and ElecComm for several months prior to landing this first generator sale. "We researched Doosan generators diligently before making the decision to buy one," Manning says. "The fact that they use Cummins engines and their compact package were big factors. After researching it, we felt the G570 was a good fit for our company. As we move forward and look to renew models in our fleet, we'll definitely be interested in looking at doing more business with Doosan."

In mid-May, ElecComm purchased their second G570 generator.
For more information about Doosan or other generators, click here to go to Utility Products' Buyers Guide.