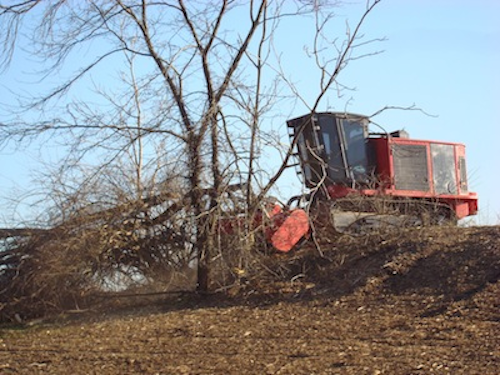 Fecon Inc. has introduced the FTX400 as the latest addition to their Fecon line up of high performance mulching tractors. This tractor brings the best combination of cutting performance, track power and serviceability in the 400 hp class of mulching machines.

Equipped with the Cummins QSM11 400hp engine, the FTX400 delivers aggressive hydraulic flow to the variable speed mulching head and solid power to the hydrostatic all steel oscillating undercarriage. Fitted with the Fecon BH300 Bull Hog, the FTX400 can achieve 98" effective cutting height and 32" below grade reach, giving the operator unparalleled range of motion. Fecon's Power Management system optimizes torque and rotor speed, allowing the FTX400 to tackle tough material, rough terrain and demanding schedules.

The FTX400 features a spacious comfortable cab with outstanding visibility through Lexan windows. Coupled with large compartment doors, tilting cab and efficient component layout, the FTX400 offers easy maintenance and serviceability.

The FTX400 is ideal for a wide range of applications including power line and pipeline right of way clearing, large scale vegetation management and site preparation. Designed for durability and built for performance, the FTX400 is the logical choice for demanding land clearing applications.

For more information about Fecon or other mulching equipment, click here to go to Utility Products' Buyers Guide.