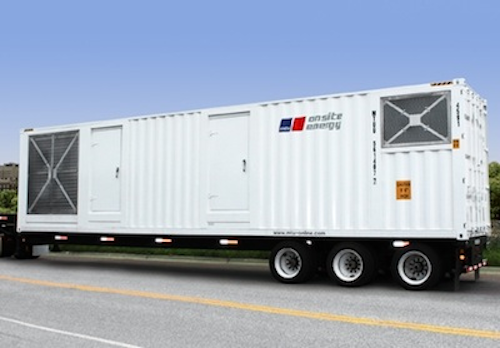 Mankato, Minn.—A 1,000 kW power module has been added to MTU Onsite Energy's line of mobile and rental generator sets for prime or emergency power applications. The containerized generator set is specially designed for maximum application flexibility. The unit is prime-rated with a load factor of 75 percent. This makes the MTU Onsite Energy product ideal for demanding applications such as special events, emergency recovery, construction, rock quarries or powering industrial processes. The sound-attenuated package is fully self-contained for ease of transport, setup and power integration.

"The 1,000 kW mobile power module features the MTU 18V Series 2000 engine for high fuel efficiency, durability, precise voltage and frequency stability," said Al Prosser, director of sales, MTU Onsite Energy. "The power modules feature digital controls and convenient enclosure access points, making them very easy to operate and service. This also reduces jobsite set up time which is especially important during a disaster recovery situation. Furthermore, there is plenty of additional space available for cables and tools."

The flexibility of the power modules is evident in their user-friendly paralleling capabilities. Additionally, digital controls on the modules simplify synchronization. Centrally located connection points make it easy to integrate the unit with other generator sets when serving larger loads or if redundancy is required. The generator set operates at 60 Hz and the output voltage is either 480 or 600 volts.

The unit is housed in a rugged 40-foot ISO container (CSC certified) that is rated to 50 degrees Celsius ambient and is designed for the most extreme environments. Cooling air is redirected to reduce airflow sound and exhaust noise is reduced by a custom internal silencer. The 1,000 kW unit is EPA-certified Tier 2 for low exhaust emissions.

For more information about MTU Onsite Energy or other mobile power units, click here to go to Utility Products' Buyers Guide.