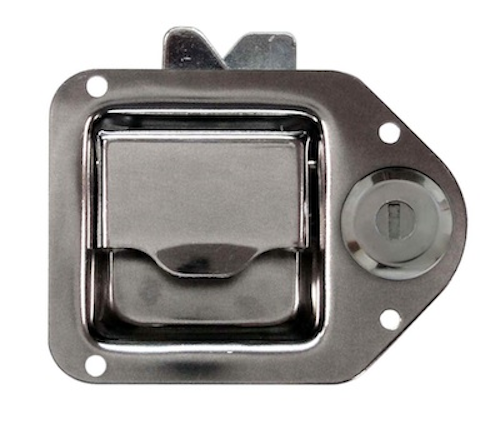 Milwaukee, Wis.—STRATTEC Security Corporation announces a new BOLT Toolbox Latch Retrofit Kit, which is designed to prevent problems with lost keys and costly lockouts on truck-mounted toolboxes.
Featuring the company's Breakthrough One-Key Lock Technology, the Toolbox Latch Retrofit Kit eliminates the need to carry extra keys for truck-mounted toolboxes by permanently programing the toolbox lock to the specific vehicle's ignition key. Here's how the technology works: When drivers insert their ignition key into the lock cylinder, spring-loaded plate tumblers move up and down until they are matched exactly to that key. Simply insert the truck's ignition key into the toolbox lock, turn it once and the lock learns the key.
The BOLT Toolbox Latch Retrofit Kit works with DeeZee, UWS Truck Accessories and other toolbox brands featuring a paddle-style handle.
"We worked with the existing handle manufacturer's to design a custom replacement handle that incorporates our automotive-grade BOLT lock cylinder," said Erika Garcia, sales manager for BOLT. "Our retrofit kit is made from stainless steel construction and provides a leak-proof lock just like the original equipment handle, so you know you're getting a high-quality product that will not only protect your gear, but will add convenience by getting rid of those easy-to-lose toolbox keys."
The BOLT Toolbox Latch Retrofit Kit can be purchased and installed through your local truck accessory store. The product also comes with detailed instructions that are easy for knowledgeable do-it-yourselfers to follow.

For more information about STRATTEC Security or other retrofit kits, click here to go to Utility Products' Buyers Guide.