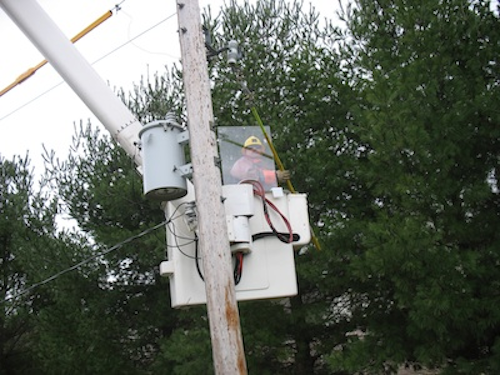 Hastings, Mich.—Hastings, a manufacturer of hotline tools and equipment, considers protection of a line-worker from hazardous voltage serious business. Safety is always top priority. The Bucket Barricade is the latest innovative, patented product from Hastings that gives linemen added protection when working on high voltage lines.

The Bucket Barricade is designed to fit inside the lift bucket and gives added face and body protection against sudden releases of energy that can occur during an electrical flash. Unlike face shields, that can fog up and obstruct visibility creating a potential hazard, the patented design of the Bucket Barricade guards the face and body with one solid sheet of clear, high dielectric impact resistant material.

This new product does more than shield from electrical arc and arc flashes. Bucket Barricade also provides a barrier for wind and weather conditions and transformer oil spray.

Features include:
• Built-in handy tool board
• Accommodates any bucket size
• Available in two width sizes of 18" and 23"
• Adjusts to four different heights with one-hand deployment
• Easy to stow design
For more information about Hastings or other linemen safety products, click here to go to Utility Products' Buyers Guide.