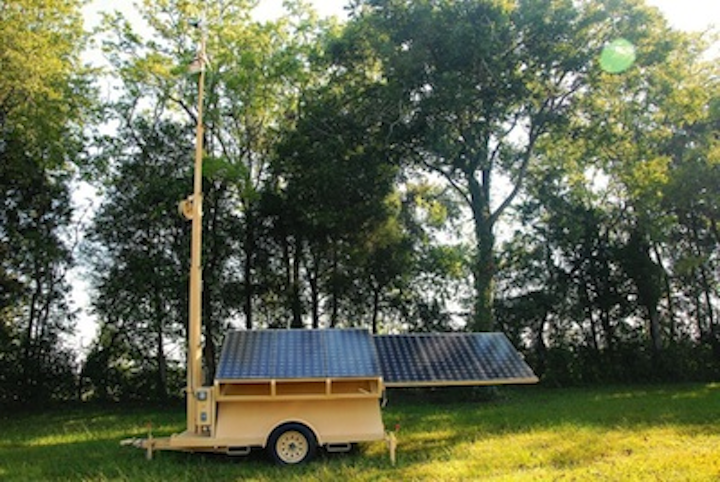 Lafayette, La.— LA LED, Louisiana manufacturer of LED lighting systems, has partnered with HK Services of Lafayette, La. to produce a sophisticated portable high efficiency lighting trailer. The mobile lighting system is rated at 35,000 lumens and has true three-day autonomy without wind or sun.

Robert Owens, President of LA LED, commented, "Completely mobile, the trailer incorporates four solar panels and is approximately 21 feet long, with a wind turbine and light hear mounted on a 25 foot telescoping boom. LA LED lighting provides a full color spectrum, clean white light and has a life expectancy of 50,000 hours (approximately 12 to 15 years)."

The unit is powered by eight deep-cycle absorbed glass mat (AGM) batteries. The mobile light tower batteries are charged by six solar panels. Also included is a wind turbine that charges 24 hours a day…light out-put is 35,000 lumens. The mobile unit can be set up by one man (5 minutes), is easy to tow, and is equipped with rugged large size tires.

Owens continued, "The unit will charge completely during an average workday for full distribution and components are not affected by temperature extremes…assuring dependability in all weather conditions. With a three year warranty, the system is an ideal solution to emergency lighting needs, commercial and governmental night construction…virtually any use where a non-fueled, high intensity stand-alone lighting system is warranted."
For more information about LA LED or other lighting systems, click here to go to Utility Products' Buyers Guide.