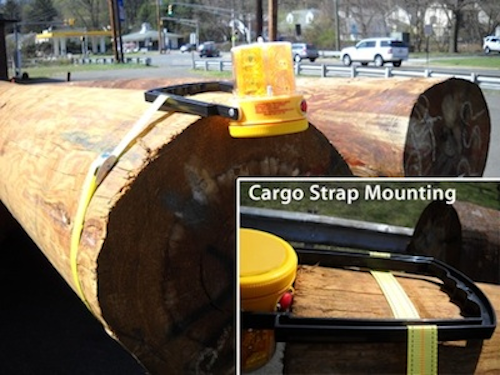 Midland Park, N.J.—Pole transport safety is enhanced with Lumastrobe's portable, shock resistant, super bright LED flashers—the Model LX-18-LH. This model eliminates the problems associated with long electrical wiring and contact corrosion. Utilizing two D-cell alkaline batteries, 600 flashing hours of operation are realized with the press of an external push button On/Off switch.

Easy to attach and deploy, the LX-18-LH is securely mounted at the end of a pole using its accompanying heavy-duty nylon cargo strap.

The design of the LX-18-LH features a 10" long U-shaped handle that allows the strobe to be strapped at any mounting angle. Featuring 360 degrees visibility and low cost, multiple placements can economically ensure visibility from all sides of the trailer.

A Xenon strobe flasher, Model M-2P-LH, is also available. Color selections for both models are amber, red and white.
For more information about Lumastrobe or other pole transport flashers, click here to go to Utility Products' Buyers Guide.