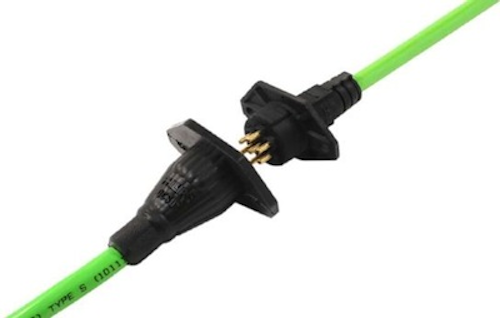 Santa Fe Springs, Calif.—Phillips Industries has introduced their new STA-DRY QCMS2 plug/socket designed specifically to eliminate the corrosion damage that is caused when road contaminants enter the electrical system of a heavy-duty vehicle. Every feature of the STA-DRY QCMS2 is designed to reduce costs associated with corrosion build up.

The STA-DRY QCMS2 incorporates a STA-DRY seal that semi-hardwires the electrical cable to the tractor completely stopping any debris from entering. And, since it is rarely removed from the tractor, there is even less chance for damage. The other end of the electrical cable features Phillips' field repairable QCP plug. If the plug begins to show signs of corrosion, the cartridge can be easily replaced, keeping the QCMS2 attached to the tractor without breaking its corrosion-free sealed connection.

The QCMS2 corrosion-free housing is completely sealed for maximum protection against magnesium and calcium chlorides. A special bonding process connecting the housing to the cable, seals out moisture and contaminants at the back of the QCMS2. The brass pins are molded in place to provide a secure connection.

For more information about Phillips Industries or other plug/socket solutions, click here to go to Utility Products' Buyers Guide.