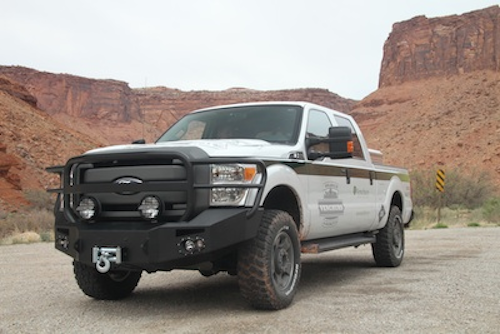 Adrian, Mich.—Less than two months after debuting its latest CNG and Bi-Fuel pickup programs at the Work Truck Show in Indianapolis, Venchurs Vehicle Systems (VVS) has launched a new nationwide demo fleet program where work truck fleet managers and buyers can put the new technology to the test. Fleets that are interested in adding CNG Ford F-250s or F-350s to their workforce will have the opportunity to apply for Venchurs' short-term loaner program. Of all the Ford Qualified Vehicle Modifiers (QVMs), Venchurs is proud to offer the largest demo program.

"The benefits of CNG are immense, and integrating alternative energy vehicles into a fleet is a big decision," says Terry Karges, VP of Sales and Marketing for VVS. "We believe that our system is so seamless, and the cost/benefit is so positive, that most fleet operators will make the switch after trying one of these trucks – so we're putting them on the road."

Compressed natural gas has been making headlines lately thanks to lower fuel and maintenance costs, extended vehicle service life, reduced emissions, a higher safety rating and the ability to stem dependency on foreign oil. The Bi-Fuel system allows for seamless "on-the-fly" switching between CNG and gasoline, offering a total fuel range of up to 650 miles. The VVS system also eliminates concerns about power, as its technology results in nearly zero reduction in power or towing/hauling capacity – thanks to superior computer management and Ford's latest direct-injection technology.

"We know that some fleets out there use their vehicles in the harshest of environments, whether it is off the pavement or in extreme temperatures," says Jeff Wyatt, CEO of Venchurs. "We've put our trucks through rigorous testing, and this demo program is important so that fleet managers themselves can directly see the capabilities these trucks have."

VVS offers Bi-Fuel and CNG dedicated conversions for Ford F-250/350 trucks, providing unparalleled technology, customer support and service. Because Venchurs is a QVM, the original Ford warranty stays intact, the conversions can be financed through Ford Credit and standard Ford Diagnostic Equipment can service the vehicles. Buyers who would like to test a unit are advised to sign up for a short term truck loan. For additional information, please visit www.VenchursCNG.com.
For more information about Venchurs Vehicle Systems or other truck fleets, click here to go to Utility Products' Buyers Guide.