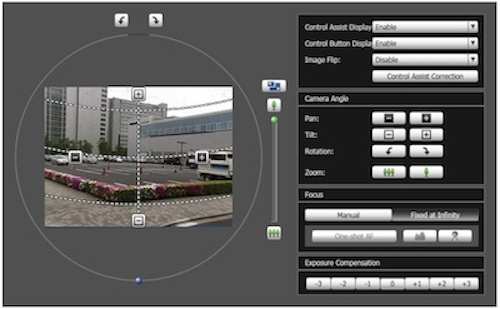 The increasing popularity of IP security cameras—used for remote video observation—continues to keep professional installers busy. Demand is fueled by end-user appreciation for such features as megapixel imaging, video analytics and the ability to view pictures via smart phone from practically anywhere. Leveraging the networking advantages of the Web, IP security cameras are also inconspicuous and include models equipped with advanced low-light imagers and built-in long-zoom lenses to capture crucial visual details at a distance.

The latest fixed megapixel IP security cameras from Canon, a leader in digital imaging solutions, also now include a feature known as the Easy Setup PTRZ Tool software application. This software application is specifically designed to free installers from having to adjust the camera's pan, tilt, rotation, zoom and focus settings during installation. Instead, the Easy Setup PTRZ Tool enables installers to save time, labor and – ultimately – expense by using the Internet to remotely fine-tune a camera's image-capture area and focus settings, or to conveniently re-set them whenever it may be required. This feature can be especially handy during large installations of multiple IP security cameras.

"It's a lot easier and less expensive to log-on to the camera and adjust it from your computer than it is to have a technician climb a ladder or use a bucket truck to do the same thing," said Ben Keith, principal of Gold Line Marketing International, a Seattle-based consulting, project management, and manufacturer representative. "The hourly fee for a technician – and, possibly, a bucket truck – far exceeds what it costs to sit at your desktop for five minutes and adjust the camera. With Canon's Easy Setup PTRZ Tool loaded into your computer you just type in a camera's unique IP address and connect to it. The tool will disconnect the camera from whatever video management system it's on, and then let you remotely adjust its pan, tilt, rotation, zoom and focus settings."

Canon's Easy Setup PTRZ Tool is a standard feature on Canon's VB-M600VE and VB-M600D fixed megapixel IP security cameras. It enables users to control the built-in motor in these cameras to remotely change their pan, tilt, and rotation angle – as well as the lens zoom and focus position – after installation, without removing the camera's dome cover, which is an industry first. This application can also be used to adjust the zoom and focus on Canon's VB-M700F fixed megapixel camera.

Both the VB-M600VE and VB-M600D models are dome cameras, with the VB-M600VE camera featuring a vandal-resistant IP66-rated outdoor dome. The VB-M700F camera has a traditional rectangular appearance. All three also provide sophisticated built-in video analytics designed to assist video monitoring professionals by detecting abandoned, moving, and removed objects as well as abnormal sound levels and camera tampering. Each camera features a high-resolution Genuine Canon optical zoom lens, a high-sensitivity 1.3-Megapixel CMOS image sensor, and the sophisticated Canon DIGIC NET image processor that enables the cameras to capture potentially crucial image detail in low-light. Sophisticated imaging features built into these cameras include Smart Shade Control, which automatically adjusts the contrast between bright and dark areas of the image for optimum detail display, and a special Night Mode for increased low-light sensitivity.

"There are other manufacturers that have remote focus and zoom adjustment, but nobody has a four-axis remote-control device like Canon does," Keith adds. "Some of them have three-axis adjustment, but the fourth axis is really the critical difference because it enables you to adjust the horizon of the camera once you've achieved a new field of view. Every time I show Canon's Easy Setup PTRZ Tool to clients they say, 'Wait a minute, we want to re-specify our job for these cameras.' This Easy Setup PTRZ Tool is a unique feature that works very well."

For more information about Canon or other security cameras, click here to go to Utility Products' Buyers Guide.