Tablet computer for mobile workers
Trimble Yuma tablet computer now available with 80GB solid state drive.


Feb 1st, 2012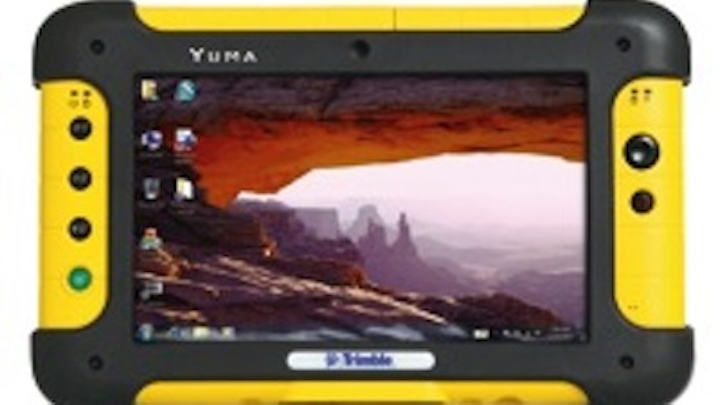 Sunnyvale, Calif.—Trimble (NASDAQ: TRMB) has announced that its Yuma rugged tablet computer is now available with an 80 GB solid state drive (SSD). With more than double the storage, the larger SSD is makes the Yuma an ideal choice for software solutions developers, field researchers and mobile workers with substantial data and processing requirements in extreme environments.

"The Yuma has been a very popular mobile computer for customers that have needed a powerful Windows platform in very demanding environments. We are pleased to add the 80 GB SSD feature to the Yuma product line, giving our customers improved functionality and more options," said Robert Davis, director of sales for Trimble's Mobile Computing Solutions Division.

The Yuma tablet computer features a 7" sunlight-visible touchscreen display in a magnesium alloy shell. It is sealed against dust and water with an IP67 rating. It also features an Intel AtomTM 1.6 GHz processor, integrated Wi-Fi, Bluetooth, GPS, and two digital cameras, as well as SDIO and ExpressCard slots. The Yuma is available with either a 32 or 80 GB SSD.

Trimble's Mobile Computing Solutions Division offers innovative products that enable mobile workers to be more efficient in extreme outdoor and industrial environments. The Nomad, Recon, Ranger and Yuma outdoor rugged handheld computers help users collect accurate field data and work more productively in any outdoor or service-related application. Trimble's handheld computers meet MIL-STD-810F military specifications for drops, vibration, immersion and temperature extremes, and with IP67 and IP68 ratings, are sealed against water and dust.

For more information about Trimble or other tablet computers, click here to go to Utility Products' Buyers Guide.