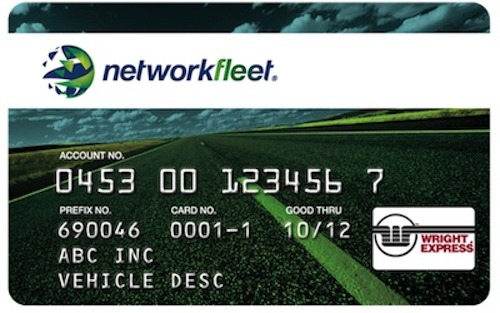 San Diego—Networkfleet, a wireless fleet management company, has announced the availability of the Networkfleet Fuel and Service Card with integrated fuel card reporting. In partnership with Wright Express, a provider of fleet cards, the Networkfleet Fuel Card tracks precise information on all fuel purchases and includes comprehensive monthly and year-to-date reporting to help fleets control costs and improve vehicle efficiency.

The Networkfleet Fuel and Service Card is accepted at 160,000 fuel and 45,000 service locations nationwide; anywhere Wright Express is accepted. Compatible with Networkfleet's GPS fleet tracking system, the new fuel card offers more control over fuel expenses by providing detailed reporting, including cost-per-mile and miles-per-gallon analyses. By taking advantage of the fuel card's purchase alerts and controls, fleet managers can keep a close watch on their companies' bottom line and easily enforce purchasing policies.

The new fuel card also integrates with reports already offered by Networkfleet in conjunction with Wright Express that customers are using to identify fraudulent transactions and better manage fuel expenses. The Fuel Guard Report lets users compare the location/time the fuel was purchased with the vehicle location/time to determine if the proper vehicle was being fueled or if there was a potential fraud event. The Fuel Card Transactions Report allows the user to see all fuel transactions during a specific period of time as well as details regarding those transactions, including location, gallons, and total cost.

"By integrating Networkfleet wireless fleet management with fuel purchase reporting, fleet managers are able to collect concrete data and implement changes that will have a major impact on reducing fuel expenses. Networkfleet is delighted to expand our relationship with Wright Express to offer this new capability," said Keith Schneider, president and CEO of Networkfleet. "The new fuel cards provide the ultimate in security and control while being easy to use and widely accepted by service stations."

"We are excited to work with Networkfleet to offer a universal card program to their customers," said David D. Maxsimic, Wright Express EVP, sales, marketing & product. "The pairing of their best–in-class telematics offering and our fleet card program offers our customers unparalleled reporting and management services. We are confident that the program, including integrated fuel and telematics reporting, will serve our respective businesses very well."

Networkfleet is a provider of wireless fleet management services that improve fleet efficiency by reducing fuel use, emissions and maintenance expenses. The company's technology combines vehicle diagnostic monitoring with an online GPS fleet tracking system. Networkfleet has more than 50 patents issued or pending surrounding remote diagnostics and has received numerous awards for its technology.

For more information about Networkfleet or other fuel control products, click here to go to Utility Products' Buyers Guide.