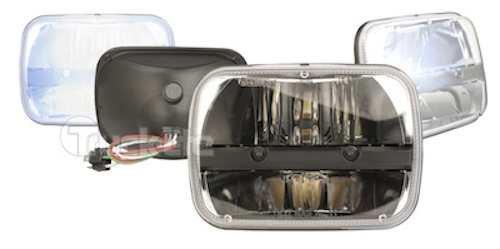 Falconer, N.Y.—In 2009, Truck-Lite broke into the world of forward lighting with a successful release of the world's first 7" round DOT approved LED headlamp. As market interest grew and LED technology evolved and improved, Truck-Lite responded to demand and is proudly releasing a 5"x7" LED headlamp application.

Made in the U.S.A., the new 5"x7" version, part #27450C, was designed to utilize cutting-edge 2 LED arrays and complex reflector, creating smooth, even light output and clean streamlined appearance. The use of metalized reflector optics provides a lighting experience that is both smooth and clean across the driving surface.

Truck-Lite's 5"x7" LED headlamp system meets and exceeds FMVSS-108 and CMVSS-108 DOT requirements for both low and high beam performance. New LED technology has enabled Truck- Lite to engineer LED headlamp products that produce light far closer to the actual color temperature of natural sunlight (6,000K) than conventional incandescent or halogen lamps. The lamps multi-volt design works with both 12v and 24v systems.

John Howells, VP of sales for Truck-Lite stated, "We are a one-stop lighting manufacturer that can offer you quality LED applications from the front of the truck to the rear of the trailer. Our existing as well as new headlamp offering really speaks to high performance, durability and increased visibility for forward lighting applications. Offering longer life than comparable incandescent lamps, these LED headlamp products are worth the upfront investment, saving the time and expense of replacing lamps multiple times."

The transition of forward lighting to a 12 volt LED headlamp application means brighter, crisper and whiter light output than incandescent alternatives, while offering longer life and greater dependability that has since become standard for LED signaling and marking products. All LED headlamps feature a solid-state, bulb-free system that is impervious to damage caused by shock and vibration. The military grade, die-cast aluminum housing and non-yellowing polycarbonate lens offer optimum protection against damage from impact, roadside debris and other hazards, combined to create a maintenance free system.

Truck-Lite's LED headlamps are drop-in replacements for #6052, 6053, H6054 and HP6054 utilizing standard H4 3 blade connector. Advanced LED technology has significantly reduced LED headlamp current draw to 3.6a high beam and 1.8a low beam, allowing more power for other vehicle requirements and extending alternator life.
For more information about Truck-Lite or other LED headlamps, click here to go to Utility Products' Buyers Guide.