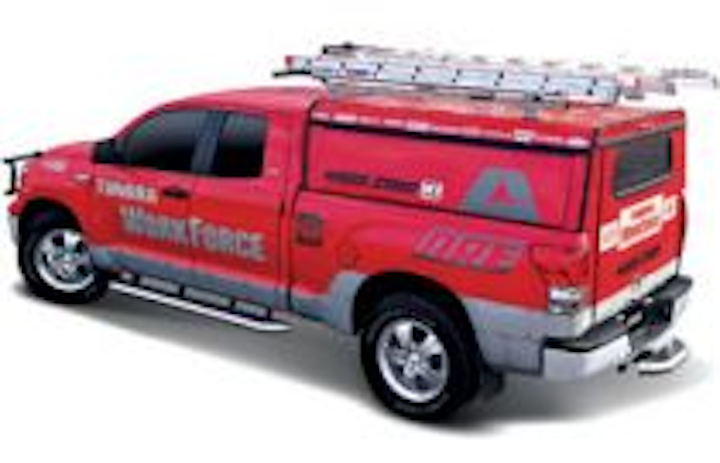 A.R.E.'s new Tundra WorkForce—a 2007 Toyota Tundra double cab standard bed truck—is outfitted with the firm's Deluxe Commercial Unit (DCU) truck cap and numerous aftermarket products that enhance the truck's appearance and utility. Featuring sturdy construction and the ability to be customized, the DCU can be tailored to fit the demands of a variety of industries due to a multitude of product options: roof racks, various toolbox configurations, a selection of window and door sizes, and a polyester fabric liner designed to prevent condensation from collecting on the interior of the cap.

The aftermarket enhancements are declared to make the Tundra WorkForce more than your average work truck. In addition to the DCU, enhancements include a hitch step and stainless steel grille insert from Luverne, a CORSA Performance exhaust system, a Warn wench, a navigation system and back-up camera from Eclipse, a Jotto Desk cargo mobile office, Goodyear tires mounted on Centerline Wheels, a locking ladder rack and interior truck bed shelving from Prime Design, a rear suspension system from Hellwig Products, a BedRug bedliner and aluminum floor mats from Pilot Automotive, among other performance and styling products.

A.R.E.'s DCU truck cap can be ordered in one of four height configurations—23-, 26-, 29- and 36-inch—and has several rear door options, including a 1/2 rear lift door, double full doors, a single full door and a full hatch door.

A.R.E.