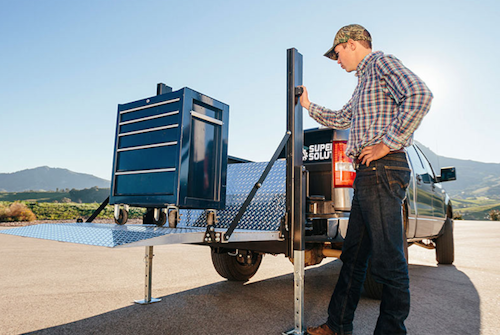 Truck accessory: CM Truck Beds (Kingston, Oklahoma) won The Work Truck Show® 2017 Innovation Award for the LiftGator XTR hitch-mounted removable liftgate. The award was presented at The Work Truck Show 2017, held March 14–17 at the Indiana Convention Center in Indianapolis, Indiana.

The Innovation Award honors the product displayed at the Show deemed "most innovative" by a panel of trade media editors and truck fleet managers. LiftGator XTR was selected from a field of more than 150 eligible products entered through The Work Truck Show 2017 New Product Spotlight or New Product Media Guide programs.

The patented LiftGator XTR is a portable, battery-operated liftgate system that can be attached to most pickup, flatbed, utility or service trucks equipped with 2-inch or 2 1/2-inch hitch receivers. Installation usually takes less than three minutes. LiftGator XTR gives truck owners the flexibility to install and use a 1,200-pound-capacity liftgate when necessary, and to remove and store it when not needed. No truck modifications are required, and the vehicle can be driven with the liftgate attached.
The LiftGator XTR system has a 4-foot by 4-foot platform operated with a simple button. More than 20 lifts can be completed on a single charge, and the self-contained battery system can be recharged using a truck's seven-pin trailer connector or any 110-volt wall outlet. When installed, LiftGator does not interfere with the sight line of the truck's brake lights. When not attached, its three-section foldable platform gives the unit a small footprint that takes up little storage space.

"LiftGator was designed for truck owners who have an occasional need to lift heavy equipment or materials into their trucks, but who don't want to modify their vehicles with a permanent, weld-on liftgate that sometimes gets in the way," said Justin Russo, president of LiftGator. "The many truck owners and fleet managers who visited us at the CM Truck Beds booth at The Work Truck Show said how much they liked the flexibility and versatility of this ergonomic, safe lifting solution that's available on an as-needed basis."
About The Work Truck Show
The Work Truck Show, one of the top 100 trade shows in the U.S., brings together more than 11,000 truck fleet managers, dealers and equipment distributors annually. It features the newest vocational trucks, vans and equipment, a ride-and-drive, and opportunities to network with other work truck industry professionals on an exhibit floor covering more than 500,000 square feet, as well as a comprehensive educational conference.
ABOUT NTEA
Established in 1964, NTEA – The Association for the Work Truck Industry, represents 1,900 companies that manufacture, distribute, install, sell and repair commercial trucks, truck bodies, truck equipment, trailers and accessories. Buyers of work trucks and the major commercial truck chassis manufacturers also belong to the Association. NTEA provides in-depth technical information, education, and member programs and services, and produces The Work Truck Show. The Association maintains its administrative headquarters in suburban Detroit and government relations offices in Washington, DC, and Ottawa, Ontario.
For more information about CM Truck Beds, The Work Truck Show or other products, click here to go to Utility Products' Buyers Guide.