Construction equipment: New smaller blocks and pads available for ProStack interlocking cribbing
Line construction: DICA's new ProStack™ Cribbing products have been expanded to include smaller Medium Duty interlocking blocks and pad sizes.

Nov 16th, 2017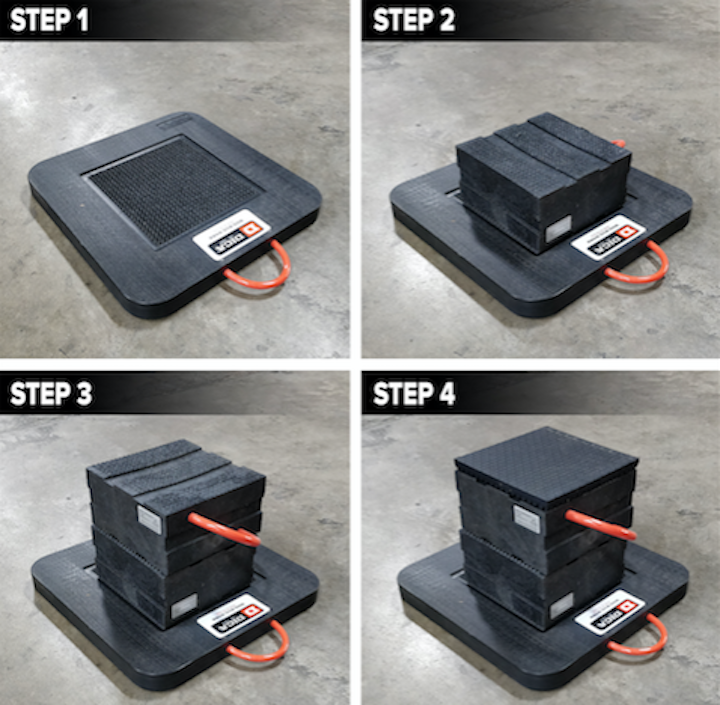 Construction equipment: DICA's new ProStack™ Cribbing products have been expanded to include smaller Medium Duty interlocking blocks and pad sizes. The reduced size is specifically designed for aerial bucket trucks and digger derricks where additional cribbing height is needed to support and stabilize the equipment in un-level environments.
Like the original Heavy Duty ProStack™ Cribbing, the smaller Medium Duty size has an engineered interlocking design that safely provides additional height under outrigger floats for increased cribbing height.
Both Medium and Heavy Duty ProStack Cribbing set-ups are made up of three basic parts; a base SafetyTech® Outrigger Pad, ProStack Interlocking Cribbing Blocks and a ProStack, high friction top Grip Pad. The base SafetyTech Outrigger Pad is manufactured with an interlocking pyramid surface. Operators then stack layers of ProStack Cribbing Blocks, to the desired height. Lastly, a ProStack Grip Pad is placed on top of the stack to provide a high friction surface for the outrigger foot, and to protect the pyramid surface on the cribbing blocks.
The new Medium Duty ProStack Cribbing is 6" thick 12"x12" which is half the size and weight of the Heavy Duty 6" thick 12"x24" cribbing blocks. The Medium Duty blocks weigh just 27 pounds each, and are intended to be used with 24" SafetyTech Outrigger Pads.
"ProStack Cribbing performance is predictable and reliable unlike most other solutions commonly employed in the field. The engineered material is strong, impervious to environmental conditions, and all components are ergonomically designed to be user-friendly. By interlocking together, ProStack Cribbing creates a more secure set-up under the stabilizer or outrigger foot. This increases safety in situations where the ground is not level." said Kris Koberg, CEO.
DICA recently displayed the Medium Duty ProStack™ Cribbing setup for the tree care industry at the TCI Expo in Columbus, Ohio.
About DICA
DICA, Guthrie Center, Iowa, has been specializing in building a better outrigger pad since 1988. By creating engineered solutions for improving equipment stability and ergonomic safety, DICA is leading the way in product innovation for outrigger pads, crane pads and ProStack™ cribbing.
DICA outrigger pads and crane pads, including SafetyTech® and FiberMax®, are used in 40+ countries and on 6 continents around the world in construction, maintenance, electrical utility, oil and gas and tree care as well as local, state and federal government agencies.
For more information about DICA or other products, click here to go to Utility Products' website.