Utility vehicles: 11-ft. Dominator III mechanics truck, 25-ft. telescopic crane
Work trucks: Iowa Mold Tooling Co. (IMT) introduces the Dominator III 11-foot mechanics truck and 25-foot, 12,000-lb telescopic crane.
Jun 13th, 2017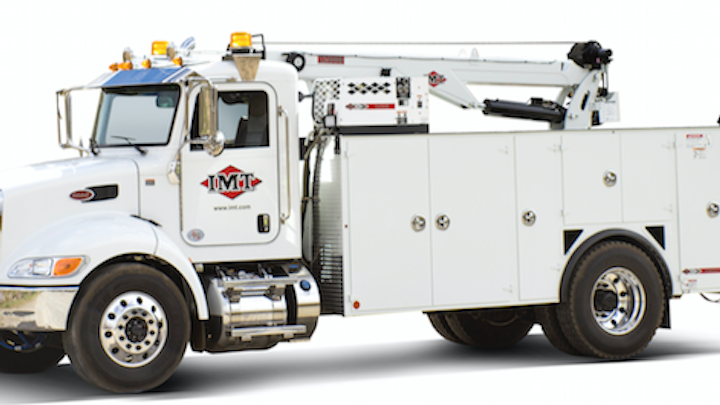 Utility vehicles: Iowa Mold Tooling Co. Inc. (IMT), an Oshkosh Corporation company, introduces the Dominator® III 11-foot mechanics truck and 25-foot 12,000-lb telescopic crane.
"We took the same approach with the 11-foot version of the Dominator III as we did with the 14-foot — provide a reliable, durable service truck with high-performance capabilities," said Jim Hasty, general manager of IMT. "We aimed to meet our customer's needs while offering a lighter, maneuverable body paired with increased lifting capacity from the 25-foot 12,000-lb crane."
The new Dominator III 11-foot is capable of working in tighter quarters than its 14-foot counterpart, maintaining stability and providing extra lift performance in critical work zones. The 11-foot body was driven by a market demand for a maneuverable truck that provides all the convenience and support of a service truck with the ability to meet tight application needs.
"The 11-foot body paired with the 12000-lb crane offers operators enhanced flexibility on the worksite without sacrificing lifting capacity," said Hasty. "Customers will find that the new 11-foot Dominator III is an economical solution that has all the quality and options they've come to expect from IMT."
Additionally, IMT reduced the weight of the upgraded 25-foot 12000-lb telescopic crane by 440 pounds, while increasing the crane rating to 81,000-ft-lb. The IMT® 12000-lb crane can clear a 12,000-pound load easily, excelling in zones where operators work. Its increased capabilities complement the improved, lighter Dominator III 11-foot body, while offering operators superior performance.
The Dominator III 11-foot body enhances IMT's Dominator line of service trucks, while providing superior performance and customizable options in a compact solution.
About IMT
Iowa Mold Tooling Co., Inc., an Oshkosh Corporation [NYSE: OSK] company, began in 1961 as a business providing new tread designs for recapping tires. The company has grown to become the leading manufacturer and supplier of service vehicles, cranes, hydraulic loaders and air compressors for tire, mining, construction, material handling and utility markets around the world.
About Oshkosh Corporation
Founded in 1917, Oshkosh Corporation is 100 years strong and continues to make a difference in people's lives. Oshkosh brings together a unique set of integrated capabilities and diverse end markets that, when combined with the Company's MOVE strategy and positive long-term outlook, illustrate why Oshkosh is a different integrated global industrial. The Company is a leader in designing, manufacturing and servicing a broad range of access equipment, commercial, fire & emergency, military and specialty vehicles and vehicle bodies under the brands of Oshkosh®, JLG®, Pierce®, McNeilus®, Jerr-Dan®, Frontline™, CON-E-CO®, London® and IMT®.
Today, Oshkosh Corporation is a Fortune 500 Company with manufacturing operations on four continents. Its products are recognized around the world for quality, durability and innovation, and can be found in more than 150 countries around the globe. As a different integrated global industrial, Oshkosh is committed to making a difference for team members, customers, shareholders, communities and the environment.
For more information about IMT, Oshkosh, or other products, click here to go to Utility Products' website. Or visit our Industry News and Equipment Showcase e-newsletters.