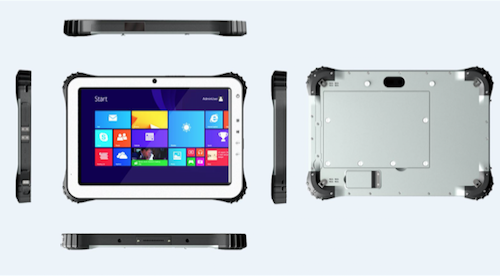 Mobile computer:Rugged tablets routinely come prepared with military specs, built for a life few will ever endure, and with a price tag that few are prepared for. Most industrial & field operations that need a rugged tablet require something that can survive routine impacts and drops, occasional rain or spray, and provides connectivity for the field or office. Such customers will find a lot to like in Estone Tech's MR-100 tablet, a 10" Rugged Tablet built for life in industrial or field environments. The system weighs in at just 2.4lbs, and features a 4ft drop rating, an IP54 Waterproof/Dustproof rating, and available 3G connectivity via SIM slot.

Many professionals are familiar with Habey, a manufacturer of embedded and fanless PC solutions. Sister company Estone Tech applies Habey's well-known name in reliable, affordable electronics and OEM/ODM system to rugged, vertical PC solutions. The MR-100 features plenty of power, with an Intel Bay Trail-T, 1.46Ghz base, 2.39Ghz burst quad core processor, integrated Intel HD graphics, and 2GB of DDR3L RAM. A 64GB EMMC HD, and a MicroSD slot supporting up to 64GB provides plenty of active storage for any Windows 10 Pro apps a user may wish to run. Users will find easy function on the extremely bright (350 CD/M), 10 point capacitive touchscreen, and plenty of runtime, more than 8 hours, with the 5000mAh battery.
The MR-100 is also packed with integrated tools. The tablet comes standard with 802.11 B/G/N WiFi connectivity supporting both 2.4 & 5Ghz, Bluetooth 4.0 connectivity, 3G Support (via SIM slot), GPS, dual cameras, G-Sensors, Light sensors and more. Available NFC connectivity and integrated 1D/2D barcode scanners make it a tool for almost any job. The tablet is also equipped with mounts for a hand strap, and a 12-Pin POGO docking port, for use in the field or office. Estone offers an extremely rugged docking station with secure posts that will keep your tablet in place in any conditions.
Estone Tech is the sister company of Habey USA, a part of NORCO electronics. Estone Tech designs and manufactures rugged tablets and embedded electronics for various vertical industries.
For more information about Estone Tech or other products, click here to go to Utility Products' website. Or visit our Industry News and Equipment Showcase e-newsletters.