Utility vehicles: NTEA Fleet Technical Congress keynote speaker, session schedule announced
Fleet management: Top fleet managers, suppliers lead sessions at event held with Work Truck Show 2018.
Dec 5th, 2017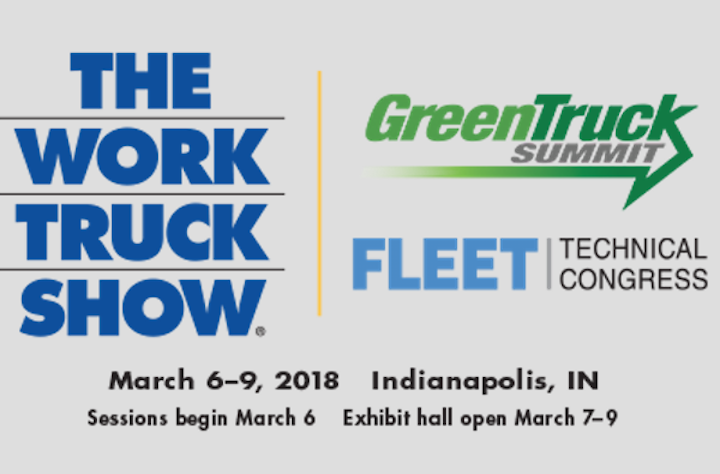 Utility vehicles: NTEA – The Association for the Work Truck Industry announces the full schedule for the inaugural Fleet Technical Congress held March 6–8, 2018, in conjunction with The Work Truck Show® 2018 and Green Truck Summit in Indianapolis, Indiana. Fleet Technical Congress is a training conference designed to address timely issues affecting the vocational fleet community, providing expert strategy and insight to help fleet managers optimize their resources and navigate operational challenges.

Fleet Technical Congress includes a full day of general sessions on Tuesday, March 6, followed by fleet-related concurrent sessions Wednesday, March 7, and Thursday, March 8. The Work Truck Show 2018 is held at Indiana Convention Center March 6–9. Educational sessions and Green Truck Summit begin March 6, and the exhibit hall is open March 7–9.

"Fleet Technical Congress is a great opportunity to learn from some of the most accomplished and effective fleet leaders in the industry," says George Survant, NTEA senior director of fleet relations. "The content is designed to encompass the significant changes taking place in technology as well as fleet management tools. Participants will learn how top performers are improving their companies' fleet performance and positively impacting their organizations' bottom lines."

Fleet Technical Congress kicks off with a keynote address on "The Future of Commercial Vehicles" delivered by Ed Peper, U.S. vice president of General Motors Fleet. Peper will discuss how rapid changes in product development are driving innovation in commercial vehicles and changing working relationships between chassis OEMs and fleet managers.

Peper's presentation is followed by five general sessions led by top fleet managers and industry suppliers. Claude Masters, retired fleet manager for Florida Power & Light Co. and past president of NAFA, will moderate "Smart, Connected Vehicles and the Impact on Fleet Operations." In this session, Richard Batttersby, equipment services manager for City of Oakland, and others will discuss features and characteristics of connected vehicles influencing management skills, techniques and requirements, as well as how new information can be used to improve operating strategies for increasing fleet reliability and decreasing costs; real-time trend analysis to allow performance and reliability predictions; and diagnostic routines.

Dean Cerimeli, chief operations officer at Original One Parts, and former director of truck product for U-Haul, presents "Reactive vs. Predictive Maintenance: Taking Control of Your Future." In this session, he'll cover how the new wave of real-time information enables fleets to move from reactive to predictive fleet management. Attendees will explore outcomes of a successful predictive maintenance strategy, including improved reliability and reduced workflow disruption.

The session "Integrating Multiple Data Streams to Enhance Fleet Decision-Making" outlines the process of gathering and incorporating available data streams from separate sources into a mainstream decision-support model. Subject matter experts from WEX Inc., Andromeda Systems, FleetChek LLC, and ARI will discuss the most robust strategies for exporting data, the role of fleet management companies in the data integration process, and tips for effectively incorporating data captured on equipment less common than trucks and vans.

Kelly Frey, vice president of product marketing for Verizon Telematics, presents "Fleet Management Risks Associated with Discoverable Vehicle-Generated Data." In this session, he'll talk about how active and passive data collected on vocational vehicles can impact fleet managers and may be discoverable in the case of accident or inquiry.

Wrapping up the general sessions on Tuesday, Erin Gilchrist, fleet director for Safelite AutoGlass, and Anthony Orta, strategy & compliance manager for Sempra Energy Utilities, Fleet Services, present "Is Your Vehicle Replacement Strategy in a Rut?" They'll reveal how the traditional fleet replacement strategy of like-for-like substitutions limits opportunities to reduce cost, improve reliability, lower emissions and enhance the driving experience for fleet users. Then they'll provide insights into how to manage continuous improvement in the face of capital reductions.
In addition to Tuesday's general sessions, registration for Fleet Technical Congress includes access to 48 concurrent sessions, a ticket to the Work Truck Show opening reception Tuesday evening, access to the exhibit hall, lunch each day, and access to the Ride-and-Drive on Wednesday and Thursday. Fleet Technical Congress is designed for both established fleet managers and those moving into more senior fleet management roles.

The Work Truck Show is North America's largest work truck event. It features the latest vocational trucks, vans, vehicle components and truck equipment on an exhibit floor covering more than 500,000 square feet. The event includes a robust educational conference with sessions designed to help attendees improve their operations. Anyone who works with commercial vehicles, including public and private truck fleet operators, manufacturers, dealers and equipment distributors can find solutions to their business challenges at the Show.
For the complete schedule of events, educational session descriptions, Show floor plan and to register, visit worktruckshow.com. For more information, call 800-441-6832 or email info@ntea.com.
ABOUT NTEA
Established in 1964, NTEA – The Association for the Work Truck Industry, represents more than 1,950 companies that manufacture, distribute, install, sell and repair commercial trucks, truck bodies, truck equipment, trailers and accessories. Buyers of work trucks and the major commercial truck chassis manufacturers also belong to the Association. NTEA provides in-depth technical information, education, and member programs and services, and produces The Work Truck Show. The Association maintains its administrative headquarters in suburban Detroit and government relations offices in Washington, DC, and Ottawa, Ontario.
For more information about NTEA or other products, click here to go to Utility Products' website. Or visit our Industry News and Equipment Showcase e-newsletters.