Utility vehicles: Ride control technology
Fleet management: Put Your Systems to the Test -- Creating and testing America's original ride control technology
May 17th, 2017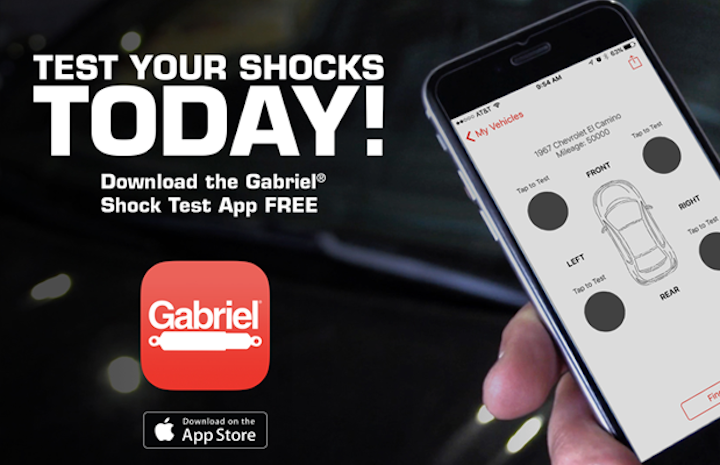 By Jon Gore, Director of Marketing at Gabriel North America
Utility vehicles: It's not surprising that the company credited with inventing and manufacturing the first automotive shock absorbers continues to lead the industry in innovative technological advancements designed to help our cars and trucks deliver safe, comfortable, dependable rides. Since 1907, Gabriel® Ride Control, LLC, an American company building high performance shocks and struts covering over 96 percent of North American vehicles, has made it their mission to go beyond already high standards in quality, validation and testing.
Shocks and struts: Safety and performance workhorses
Designed to provide a smooth ride by absorbing and damping road feedback, shocks and struts play a critical role in a vehicle's suspension system. While everyone values a smooth ride, their most important function is to influence the control and handling characteristics of a vehicle, working to keep tires on the road despite fluctuating, sometimes challenging, conditions. A vehicle's ride control, overall safety and its drivers' ability to steer and brake all depend on the fundamental, secure contact between the tires and the road.
Shocks and struts need to work on securing that contact under any driving conditions, so their design, along with testing them to perform to rigorous standards, is part of what makes Gabriel Ride Control unique. Gabriel conducts a durability test measuring the structural integrity of every part they assemble, including shock absorbers, struts or ready mounts. Seals, outer casings, the inner joint strength, the rubber compound connecting shocks, even the oil within is tested to determine how it handles heat created by friction. All are held to the highest quality standards to ensure they meet, and exceed, required tolerances.
Further testing involves different scenarios for a variety of vehicles and conditions. In a small passenger vehicle, lighter than a pickup truck under load, the shock and struts valve design dictates durability and performance. Shock absorbers help to translate the road under varying conditions, so they're tested during winter weather, using salt and sand which can adversely affect the metal of shocks and struts. Gabriel engineers test their paint, determining whether it's durable enough to protect the underlying materials. The salt spray test, done within a closed environment, subjects shock absorbers to a continuous sprayed stream of highly acidic salt water to simulate and accelerate long-term corroding conditions that might occur over a typical 10-year period.
Because a smooth ride is a major concern to vehicle manufacturers and consumers, making comfort levels determined by how shock absorbers translate the road, and the ride, is another prime testing focus. To make sure these parts stand up to the road while delivering a nice, comfortable ride, Gabriel's technicians perform test drives, running vehicles through predetermined, sometimes punishing routes that include potholes, washboard or dirt roads, and other challenging surfaces.
Different tests for different struts
For modular assemblies, or ready mount struts, a more comprehensive test installing them on a vehicle simulator is performed. Each part is set at the same angle and receives input loads identical to the vehicle it's intended for. This replicates real world scenarios, helping to identify potential issues with individual components as they function together as part of an assembled team. With heavy duty vehicles, like Class 8 trucks, testing needs to be accomplished under loaded and unloaded conditions to ensure struts perform equally well both ways.
Every vehicle has a ride height—the measurement between it and the road—and the struts and ready mounts comprise the actual structural point of the vehicle. Ride height is critical to the design and building of struts because they're responsible for returning that vehicle to the correct ride height as changing road conditions occur, and many different calculations depend on it. If, for example, a passenger car has only a driver, the struts are going to need to react differently than if the car holds four passengers and a dog, or if they're being used in a truck carrying heavy materials.
Precision engineered, fit and ride tested
At Gabriel Ride Control, the testing of every product is a relentless part of the design process. During that process, if alterations or improvements are made to the design, they receive further testing. Each time there's a structural change, that component is tested before the change is approved and released. Tests are designed to find the failure point of a ride control product. Either the structure of the component will fail, which would make noise at the very least, or there will be the potential for a vehicle's loss of control as a worst-case scenario. Gabriel designs their products to survive according to the original manufacturing standards. They spend considerable amounts of resources ensuring their vehicles are safe and durable, rely on those standards and strive to uphold them. There are no short cuts to the process when it comes to making quality products.
Adhering to strict testing standards in order to manufacture products that meet and exceed Original Equipment Manufacturers (OEM) recommendations is essential to providing consumers with a product that fits their vehicle while delivering lasting performance at an affordable price. Gabriel Ride Control takes the process even further, testing competitors' parts along with their own, making sure each product performs as promised upon installation and lasts at least as long as the consumer expects it will.
Introducing Gabriel's free shock and strut testing app
For drivers curious about how their vehicle's suspension is handling the rigors of everyday driving, they can test shock absorbers and struts by using Gabriel's Shock Test app for iOS and Android. This new, user-friendly suspension test makes it easy for owners to check right from their smart phone. After downloading the free app from the iTunes store, simply add the vehicle's year, make, model and style from the menu along with information on the estimated shock/strut mileage and the vehicle's identifying name.
Pick which corner needs testing (front or rear, left or right), and follow simple instructions to test it as well as the other three corners. Test results, clear and quick, include information and scores for performance and mileage along with an overall score. The test allows app users to find out which parts are needed, where to get them, and the expected lifespan of each. It's a powerful new tool giving users accurate information about their ride control status, and it's available today.
Visit the iTunes app store to download Gabriel's free shock test (requires iOS 9.0 or later or Android 5.0 or later).
For more information about Gabriel or other products, click here to go to Utility Products' website.