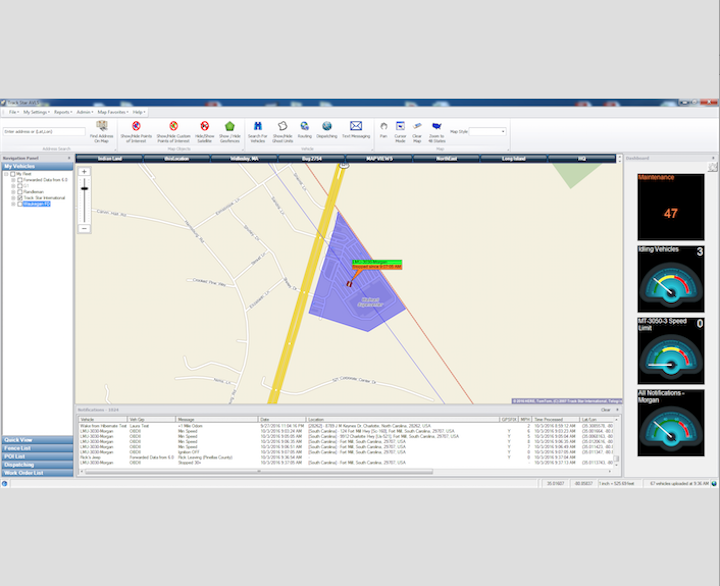 By Michael Hughes
When I was a young engineer in 1994, I began an effort to combine a technology I learned during my Air Force career with a technology that was beginning to take hold in the marketplace. The one I learned about in the Air Force was called global positioning system (GPS) and the other was cellular telephones.
My intent in combining these technologies was to be able to calculate the position of a mobile asset and know that location information back at my office. It all seems simple today, but at that time there was the challenge of sending data over cellular audio channels and developing mapping software complete with the added challenge of making map data from USGS TIGER files.
Here we are in 2018 and approaching the 25th anniversary of that effort, and there are a few of us in this industry that were around in those early days. That GPS vehicle tracking is even an industry came as a surprise to me and many of my contemporaries, but it is an industry and very different than it was in its infancy.
When GPS vehicle tracking technology first appeared, there was much excitement about being able to know where vehicles were located. The utility industry was an early adopter of this technology, given the many vehicles that are used to provide electric, gas, telephone and cable services around the United States. In the beginning, it was enough to know where the vehicles were, and the "dots on a map" displays provided the office with better visibility of field operations.
Dots on the map displays sufficed for a time, but the community wanted more from the GPS systems they were adopting. Event reporting came into being and historical databases on the back-end enabled reporting and analysis functions that increased the ROI of the GPS technology. GPS capable devices for the vehicles evolved as well, offering mobile modem capabilities that turn work trucks into offices. Cellular data technology morphed from the modulation of audio circuits with data through various control channel packet technologies and into the digital packet technologies that we've come to know as 2G, 3G and 4G.
The GPS vehicle tracking solutions of today are much different than the systems this industry was built on. The location data for a vehicle is no longer sufficient, in and of itself. Instead, it is one component of a larger mass of information coming from the vehicle that tells us so much more than the "where" that the first solutions provided. Today we know the who, what, when, why and how together with the where, and that information is of much value to the users of these systems.
Today, the GPS information is likely part of a flow of information from the vehicle that includes the location information, but it also likely contains information from the vehicle itself, such as fuel level, odometer reading and state of the check engine light. Sensor data, panic button and driver identification information is probably part of the package. All of this information is probably adjunct to things such as work order and job information, parts and supplies inventory data and, in many cases, driver and vehicle logbook information.
The design of systems in the beginning stressed compactness in data transmitted, and we strived to pack as much information into as few bytes as possible. Today's systems are moving incredibly increased data payloads to and from the deployed mobile workforce.
GPS was initially a "show unto itself" technology. There was value in the GPS location data and it stood alone nicely. A reasonable and substantial ROI case existed in terms of both tangible and non-tangible benefit derived by those who used the technology, and the benefits became more substantial as the cost of the hardware and the cost of the data services declined over the course of time.
Today, we see a market full of systems that manage GPS location data, engine diagnostic bus data, driver behavior data, driver identity data, work order and dispatch data, and sensor data. Each solution has its own presentation and analysis tools to work with the data and, in near totality, they are offered as shared, cloud-based solutions. There are so many that they have largely evolved into a commodity. The successful fleet management solution of 2018 offers its users—beyond its own ability to collect, store, analyze and report vehicular derived data—the means to share this information with other applications through API's and the means by which other applications can share applicable information with the fleet management solution. The technology has evolved to the point where "no man is an island" and integration with disparate systems is a necessity.
So, with the past and the present fairly well defined, where are we headed for tomorrow? There are things coming along that we know about, such as the evolving 5G cellular system. It will eventually replace 4G technology as 4G technology is today replacing the 2G and 3G technologies that came before it. Certainly, GPS will improve further. More devices will come into the market and the prices will likely decline (in real dollars) with technology maturation, increased volume and competition. Back end software will continue to evolve and the providers who remain successful in this market will be the ones who meet the evolving needs of their users. More data will flow to and from the vehicles in the field and there will come to be more acceptance of the big-brother aspect of these technologies. One of the biggest issues coming to the forefront in the near future will be the security of the devices in the fleets. There are likely many things coming we can't foresee—as well as things we can. It was that way in the beginning of this industry and it will continue to be that way. It's not beyond consideration, for example, that driverless vehicle technology will become an integral part of fleet management solutions. There could come a day when the dispatch function of a utility operation is directing the dispatch of autonomous vehicles from their fleet management console. Drones and robotics will play an increasing role in the delivery of goods and services, and those mechanisms could find themselves in the fleet management environs of utility companies.
For me, now a much older version of the engineer who designed and built those first GPS systems nearly 25 years ago, I will continue to guide my company as it furthers the evolution of our Track Star AVLS system. We stopped producing hardware products more than a decade ago, but we have replaced internal engineering with strategic partnerships. For the utility industry, the systems that exist and evolve will become increasingly integral in their day-to-day operations and increasingly tied to other systems in the organization. No matter what, though, the next 25 years will certainly be as fun and surprising as the last 25 have been.
About the author: Michael Hughes is the founder and president of Track Star International Inc. He founded the company in 2000 in upstate New York with hardware and software designs he had been developing since 1994. The company now has its headquarters in Charlotte, NC, and Hughes directs the activities of a well-rounded team of software developers, technical support specialists, sales professionals and administrative experts. The Track Star AVLS product is in its 6th major version release since its initial development release.
For more information about Track Star International Inc. or other products, click here to go to Utility Products' website.