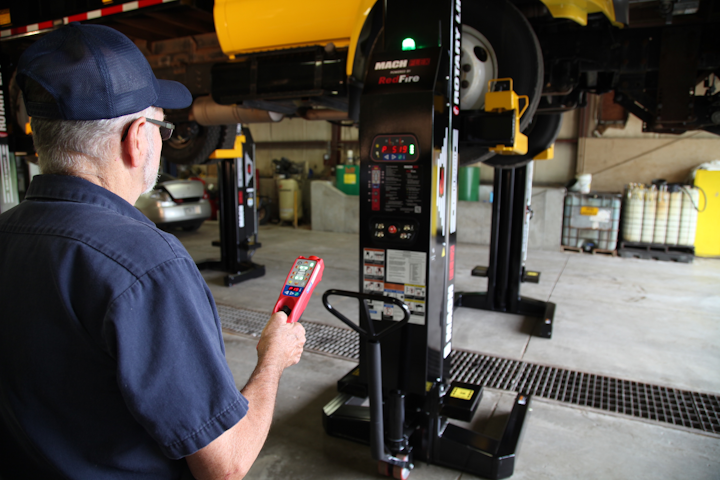 Rotary's new line of wheel service equipment joins the most advanced mobile column lifts on the market to improve shop efficiency when servicing any work truck. At The Work Truck Show this week, fleet managers can check out the new R501N Speed Changer HD heavy-duty tire changer, R544 Pro Truck 2D wheel balancer and Mach™ Flex powered by Redfire™ mobile column lift. Rotary will showcase how Mach Flex can be configured with a truck frame adapter kit to lift light-duty trucks like the hybrid Ford F-150 pickup in the booth, as well as the medium- and heavy-duty trucks more traditionally associated with mobile column lifts.
The R501N Speed Changer HD heavy-duty tire changer is designed for truck tires, bus tires and super singles, allowing technicians to dismount or mount a tire in just 30 seconds. The patented operating system leverages a distinctive compact design with an adjustable arm that makes tire changing a much more efficient process, regardless of the type of tire. Dismounting a tire is a simple operation: while the front bead breakers keep the bead in the drop center, the rear breakers continue their course until the dismounting is complete.
Also on display, the R544 Pro Truck 2D wheel balancer allows for quick and accurate balancing of a wide array of commercial truck, bus and passenger vehicle wheels. The balancer includes self-calibration and self-diagnostic features, can raise up to 441 pounds with an integrated wheel lift, and has specific balancing programs for static, dynamic and light alloy/aluminum wheels.
Rounding out this year's Work Truck Show footprint will be two Mach Flex series mobile column displays. The Mach Flex series is an incredibly versatile family of lifts – with a 14,000 lb. and 18,800 lb. capacity option. Choose from two, four, six or eight-column configurations to lift everything from Class 1 to Class 8 vehicles. Rotary's booth will feature a four-column set of Rotary MCH19 Flex mobile columns that can lift vehicles weighing 75,000 lbs. by their wheels and a two-column configuration featuring MCH14 Flex columns with a truck frame adapter kit. The truck frame adapter kit transforms the pair of columns into a frame-engaging lift, providing unobstructed access to the wheels and components mounted near the vehicle's sides. Rotary's Mach Flex powered by RedFire wireless mobile column lifts are operated by a patent-pending remote control that lets technicians move around the vehicle while operating the synchronized mobile columns for maximum visibility and flexibility.
To learn more about Rotary's full line of heavy-duty vehicle lifts and wheel service products visit Utility Products' website.