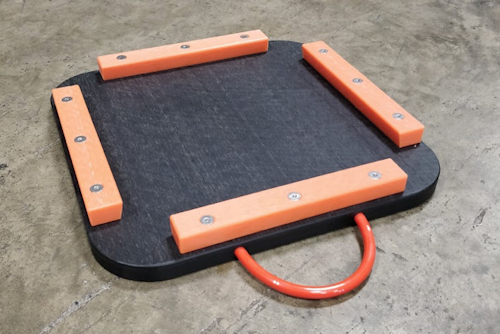 Construction equipment: The Cavity Pad Plus model joins DICA's SafetyTech® Outrigger Pad product line. SafetyTech Outrigger Pads provide a strong, rigid, and easy to use foundation for a wide variety of outrigger enabled equipment, including mobile cranes, digger derricks, aerials and concrete pumps. The Cavity Pad Plus model is designed for equipment such as digger derricks and aerials that can operate in managed un-level conditions, which increases lateral forces.
Cavity Pad Plus Inverted Bevel
Cavity Pad Plus 1.0″ high edge guards have an inverted bevel design that provides an additional measure of stabilizer foot stopping safety. Cavity Pad Plus features a 1" high footbrake with an inverted beveled design. The inverted bevel design traps the outrigger foot which prevents it from sliding off of the crane stabilizer pad. "This is a significant improvement in the design of our original Cavity Pad," said Kris Koberg, CEO. "The inverted beveled design creates a higher level of safety, and the color scheme adds to overall higher visibility. In addition, the new design contributed to reductions in manufacturing costs enabling us to lower the price for our customers," he said.
Cavity Pad Plus Nesting
Cavity Pad Plus models nest together for a total stored height of 3.0″. Constructed of a proprietary engineered thermoplastic material, SafetyTech Outrigger Pads have crush ratings up to 750 psi and rated capacities up to 325,000 lbs.
About DICA
DICA, Guthrie Center, Iowa, has been specializing in building a better outrigger pad since 1988. By creating engineered solutions for improving equipment stability and ergonomic safety, DICA is leading the way in product innovation for outrigger pads, crane pads and ProStack™ cribbing. DICA outrigger pads and crane pads, including SafetyTech® and FiberMax®, are used in 40+ countries and on 6 continents around the world in construction, maintenance, electrical utility, oil and gas and tree care as well as local, state and federal government agencies.
For more information about DICA or other products, click here to go to Utility Products' website. Or visit our Industry News and Equipment Showcase e-newsletters.