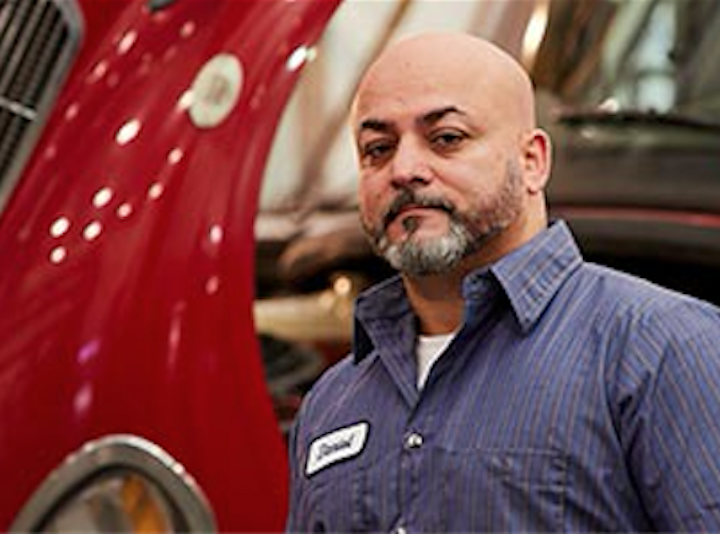 Fleet maintenance: Mitchell 1 has enhanced its TruckSeries truck repair software with the addition of a new vehicle selector feature that provides precise vehicle descriptions while eliminating the labor involved with manual vehicle identification number (VIN) entry and verification.
With the new feature, a technician can simply enter the license plate number of the truck requiring service and TruckSeries automatically converts that to the VIN registered to that plate. The Plate-to-VIN feature speeds up the vehicle selection process by reducing the number of characters to enter and also helps to make the vehicle identification more accurate.
Once the plate number is converted to the appropriate VIN, users can then quickly access all the truck repair information in TruckSeries, including color wiring diagrams, descriptions, specifications, testing steps and procedures, as well as labor estimating information. "The new plate-to-VIN vehicle selector is a great time saver and just the latest way that TruckSeries can help diesel technicians work more efficiently and accurately," said Kristy LaPage, business manager for the commercial vehicle group at Mitchell 1.
Mitchell 1's TruckSeries truck repair software provides truck service technicians with fast, complete and accurate solutions for every stage of the repair process, in a single online application for all makes and models of Class 4-8 trucks. The new Plate-to-VIN conversion feature adds another level of ease-of-use and accuracy to the software suite.
About Mitchell 1:
In 2018, Mitchell 1 is celebrating its 100th anniversary as a leading provider of repair information solutions to the motor vehicle industry. Headquartered in Poway, Mitchell 1 offers a complete line of integrated repair shop software and services to help automotive and commercial truck professionals improve productivity and profitability. For commercial truck repair shops, Mitchell 1 offers Manager(tm) SE Truck Edition to manage business operations, and TruckSeries to estimate labor times, diagnose and repair all makes of Class 4-8 trucks. ProDemand(r) optimized with SureTrack(r) is the most complete solution for OEM and real-world repair information and diagnostics. Manager(tm) SE is the industry standard for mechanical estimating and shop management information. The SocialCRM shop marketing service delivers automated marketing and customer engagement tools to help shop owners improve their bottom line profits. Mitchell 1 is a recipient of the ASE Blue Seal of Excellence award.
For more information about Mitchell 1 or other products, click here to go to Utility Products' website.