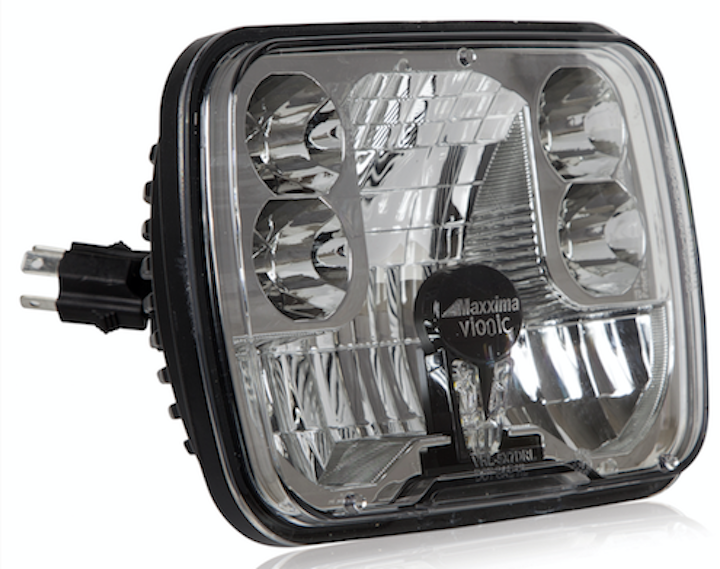 Utility vehicles: Maxxima, a provider of LED lighting for commercial vehicles and industrial applications, now offers the Vionic 5X7 Combo DRL/Dual-Beam LED headlight for heavy trucks and other vehicles.

The Vionic 5X7 Combo DRL/Dual-Beam headlight has nine high-performance LEDs to produce whiter light and longer life in a rugged, low-profile design. It uses dedicated diodes for DRL and dual-beam functions, and delivers the best combination of visibility and performance in both daylight and nighttime driving conditions. The cast aluminum housing and polycarbonate lens with Maxx-Shield coating provide durability and uptime.

Other key features:
- FMVSS-108 and CMVSS-108 compliant
- Standard OEM 3-blade connector
- Dimensions: 7.9 x 5.6 x 3.7 inches
- Weight: 2.1 lbs.
- 12/24VDC dual voltage
- 5-year warranty

Available accessories include a DRL module for vehicles not equipped with DRL control.

Maxxima Vionic is the industry's most advanced line of combination DRL/headlights. Vionic 5X7 Combo DRL/Dual-Beam LED headlights (part #VHL-5X7DRL) are available now through Maxxima's network of aftermarket distributors in the United States and Canada.

Maxxima, a division of Panor Corp., designs and manufactures a complete range of LED lighting for commercial vehicles as well as consumer and industrial markets. From stop/tail/turn (STT), emergency, interior cargo, and marker lamps, Maxxima LED products light the way for trucks, buses, trailers, and other vehicles on and off road in the most demanding environments all over the world.
For more information about Maxxima or other products, click here to go to Utility Products' website.