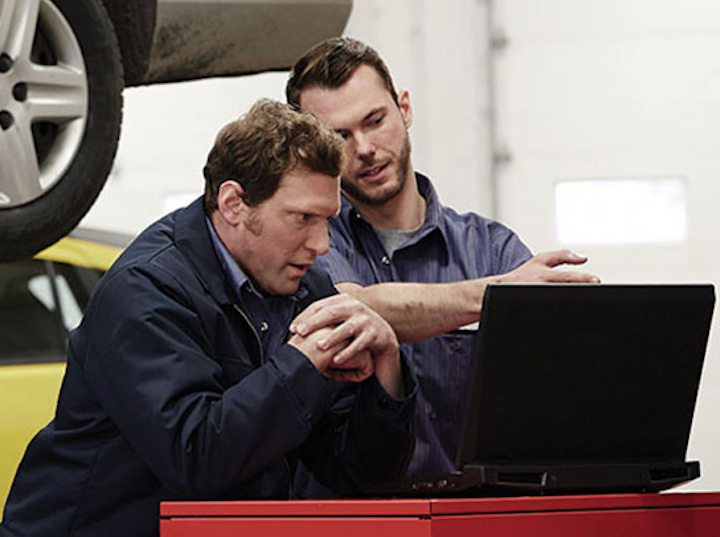 Fleet maintenance: Mitchell 1 has recently posted an important safety reminder in its ShopConnection Truck Blog about how warnings and cautions in service information can help truck repair professionals avoid potential hazards in the shop. The information is useful both to new technicians learning to service medium and heavy trucks and also experienced technicians who may not be as familiar with new materials that can pose a risk if not handled properly.

As an example, safety information about high temperatures generated from hard parts is covered in a blog post by Jake Schell, associate product manager for Mitchell 1's Commercial Vehicle Group. In the post, Safety First: Pay Attention to Warnings & Cautions, he explains that a high temperature seal made from Fluoroelastomer can become extremely hazardous when it reaches 600 degrees and begins to decay. When technicians start chipping away at the damaged seal to find the root cause, they should take great care as the hydrofluoric acid produced can cause severe burns.

Warnings and cautions like this are included in Mitchell 1's TruckSeries truck repair information software. Potential hazards in the shop are indicated with cautions (yellow symbols) and warnings (red symbols). In the case of the hot seals, the technician is advised to always wear protective gloves. Mitchell 1 suggests that technicians, especially those who are new to the truck industry, closely watch for these notifications in the repair information software and any other service manuals they use.

In its ShopConnection Blog, Mitchell 1 leverages its vast database of repair information for medium and heavy trucks, as well as the collective knowledge of its commercial vehicle editorial staff, to offer tips and information to help truck technicians work more efficiently. In the blog, many of Mitchell 1's ASE-certified trucking service experts address repair issues that truck technicians may face every day in the shop.
About Mitchell 1:
In 2018, Mitchell 1 is celebrating its 100th anniversary as a leading provider of repair information solutions to the motor vehicle industry. Headquartered in Poway CA, Mitchell 1 offers a complete line of integrated repair shop software and services to help automotive and commercial truck professionals improve productivity and profitability. For commercial truck repair shops, Mitchell 1 offers Manager™ SE Truck Edition to manage business operations, and TruckSeries to estimate labor times, diagnose and repair all makes of Class 4-8 trucks. ProDemand® optimized with SureTrack® is the most complete solution for OEM and real-world repair information and diagnostics. Manager™ SE is the industry standard for mechanical estimating and shop management information. The SocialCRM shop marketing service delivers automated marketing and customer engagement tools to help shop owners improve their bottom line profits. Mitchell 1 is a recipient of the ASE Blue Seal of Excellence award.
For more information about Mitchell 1or other products, click here to go to Utility Products' website.