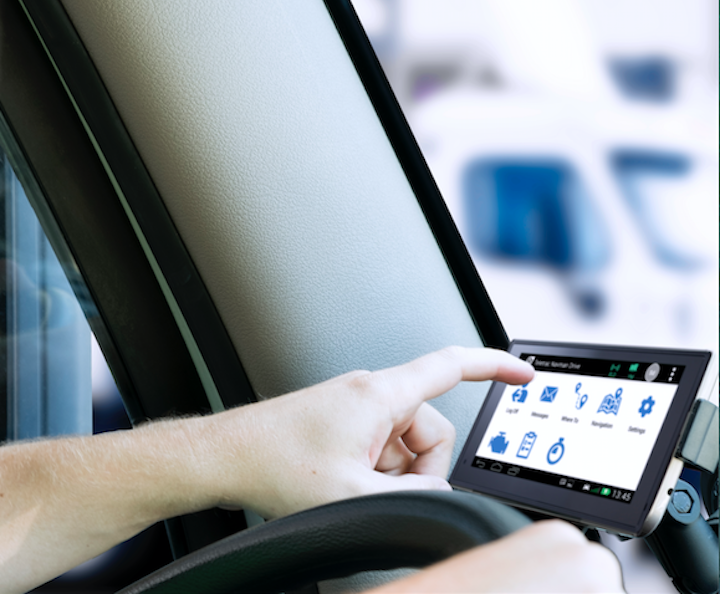 By Rich Mohr and Gary Allen
The Demand for Visibility
In the "now economy," consumers are demanding shorter fulfilment cycles and speedier deliveries—a direct result of what's become known as the "Amazon Effect." In this climate of ever-changing expectations, new developments in fleet technology are vital to delivering the greatest value to customers and helping them remain ahead of their competitors.
Real-time exception handling, routing and analytics are particularly valuable to companies as they navigate the sharing economy of transportation. Ryder provides precisely that through its cloud-based platform RyderShare, which provides real-time visibility across all modes of transportation in a network. It alerts drivers to information updates and routing instructions, and more. Accessible through a customer-facing website and mobile application, RyderShare uses cellular and GPS technology to link shippers with onboard vehicle technologies.
Telematics' Role in Fleet Management
Telematics continues to play a key role in fleet management. Aside from full-featured GPS fleet location and tracking benefits, telematics systems such as Ryder's RydeSmart, for example, have the ability to manage vehicle performance for its customers. RydeSmart serves as an early warning system that detects any issues in need of repair while the vehicle is on the road and/or in the shop. The telematics system has the ability to assess any faults, and directs the vehicle to the nearest shop location with the best capacity. This enables diesel technicians to prepare for the vehicle before it arrives, reduces the number of onboard breakdowns, and enables the technicians to work with shorter triage time. There is much value in preempting failure, which makes this kind of technology useful.
Hours of Service: The Migration from Paper to Electronic Logging
Just as there are fleet management technologies playing a role in driving efficiencies for customers' businesses and the maintenance shops supporting their fleets, there are also fleet management devices that are streamlining processes for drivers while ensuring their safety on the road. For example, with the ELD Mandate, which went into effect on December 18, 2017, per the Federal Motor Carrier Safety Regulations, it is now mandatory for fleet operators to have an electronic logging device (ELD) installed in each vehicle they operate. ELDs replace paper driver logs, which decreased driver productivity on the road by requiring drivers to fill in their hours of service (HOS) manually and to locate a rest stop along their route in order to do so.
There are multiple benefits to using ELDs because as they track, record and transmit:
• date and time;
• geographic location information;
• vehicle information, including engine hours and miles;
• driver user identification; and
• Motor Carrier Identification.
In addition, these devices improve safety and performance, increase efficiency for drivers and carriers, reduce form errors, and result in paperwork savings each year.
Nonetheless, as is the case with the rollout of most new regulations, the ELD Mandate has resulted in various challenges. There are the factors of time and cost, as well as the pressure on small to mid-size businesses to act like commercial carriers. A variety of ELD platforms are available, which can be overwhelming to businesses. It can be especially daunting to businesses with short-term rental needs, because they could be using up to three different ELD platforms at a time. To help alleviate some of this pressure, Ryder launched its own ELD platform, which helps Ryder rental customers gain additional flexibility, choice and control in fleet management.
Other benefits and features include:
• Allowing customers to either use Ryder's solution or their own portable ELD equipment;
• Providing access to a fleet management portal for driver and support personnel profile creation;
• Tracking the vehicle's location, routing activity, and idle time;
• Creating "geofences" and alerts for fleet activity notifications; and
• Enabling use of a cellular data connected Android- or iOS-based smartphone or tablet.
The technology behind this platform was developed in partnership with Geotab, a provider of telematics and fleet compliance management tools for monitoring and recording HOS. To capture records of duty status through the Ryder ELD platform, drivers simply need to download and log into the Geotab Drive app on a cellular data-connected mobile device. In addition, all current Ryder rental customers are pre-registered in the company's system—so minimal time is required for set up on the Ryder ELD platform. This solution provides flexibility because customers have the option to use Ryder's ELD solution or their own portable ELD equipment.
With this new solution to the ELD Mandate's requirements for commercial vehicles, customers renting vehicles for their business needs are getting an overall enhanced experience while reducing overall costs.
In addition to the new ELD technology, Ryder, government officials, and industry partners secured an eight-day exemption to allow paper logs for instances of a vehicle breakdown, seasonal demand and expansion needs. A 90-day waiver of the mandate, specific to those renting for 30 days or less, was also secured, allowing drivers to continue to use paper logs to track their HOS for an additional 90 days beyond the December 18th compliance date.
Outsourcing: No Better Time
Technology is changing at lightning speed, making it tough for companies to keep up. In addition to new developments in technology, safety regulations remain stringent—and the technician and driver shortages continue to grow. In this complex environment, outsourcing to a third-party provider makes more sense. With a strong commitment to making investments in new technologies, proven recruiting and retention capabilities, and vast, reliable maintenance networks to keep vehicles on the road, you can free up time and capital, and ultimately, focus on what you do best.
About the authors:
Gary Allen is vice president of Supply Chain Excellence for Ryder System Inc., a FORTUNE 500 commercial fleet management, dedicated transportation, and supply chain solutions company. Allen has more than 25 years of experience in supply chain services. Prior to this position at Ryder, he led EY's logistics consulting practice
Richard Mohr is the vice president and global product manager for Ryder System Inc., with responsibility for Rental Operations. Mohr began working for Ryder in 1997, and has since held positions of increasing responsibility. He has directed numerous rental initiatives, with experience in rental management, transportation, organizational leadership, and team leadership.
For more information about for Ryder System Inc. or other products, click here to go to Utility Products' website.