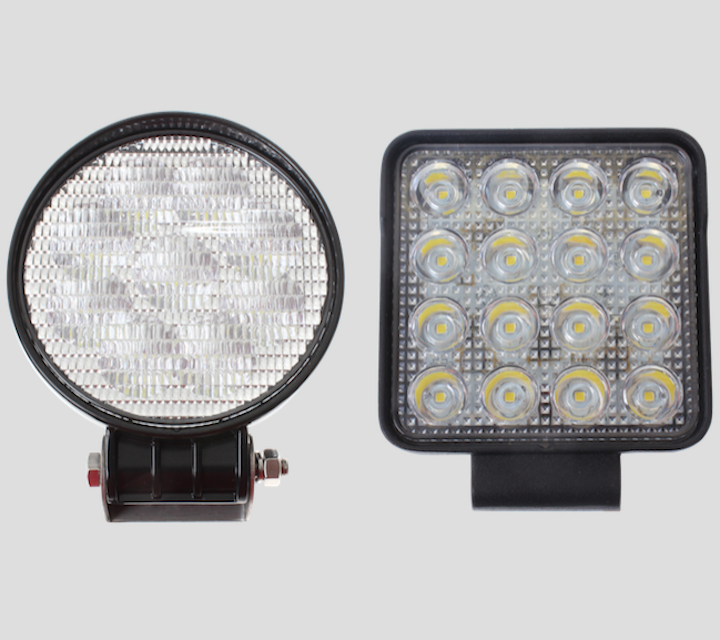 Utility trucks: Superior Signals, Inc. (SSI) ensures your work area is completely illuminated with six new LED work light options! With their sleek thin design, these SYTLED1400 series and SYTLED2880 series are the perfect lights to add to any work truck or utility truck.
The new SYTLED1400 series work lights have 9 LEDs with a light output of 1100 lumens, and come in either a flood or spot beam pattern. These new lights come in either a round or square style. The new SYTLED2880 series work lights are available in thee square style and have 16 LEDs with a light output of 2000 lumens, and they come in either a flood or spot beam pattern
Both the SYTLED1400 series and SYTLED2880 series LED work lights come with stainless steel mounting hardware and are pedestal mounts with wire leads. Each light also comes with the following certifications: IP67, IP69K, CE, RoHS, and E-Mark.
For more information on the new thin LED work lights contact your sales rep at 1-800-447-3693 or visit us online at www.superiorsignals.com and search the following part number:
SYTLED1400R-FL
SYTLED1400R-SP
SYTLED1400S-FL
SYTLED1400S-SP
SYTLED2880S-FL
SYTLED2880S-SP
Whatever your needs, SSI has the right light for the job. SSI serves OEM and aftermarket customers domestically and internationally by providing quality vehicle safety lighting and traffic control products for demanding on – and off – road markets. They offer an industry knowledgeable sales force and dedicated sales representatives to assist you in your product requirements for a variety of vehicle and equipment components. SSI has been providing quality products for over 45 years and our focus is your complete customer satisfaction.
For more information about Superior Signals or other products, click here to go to Utility Products' website.