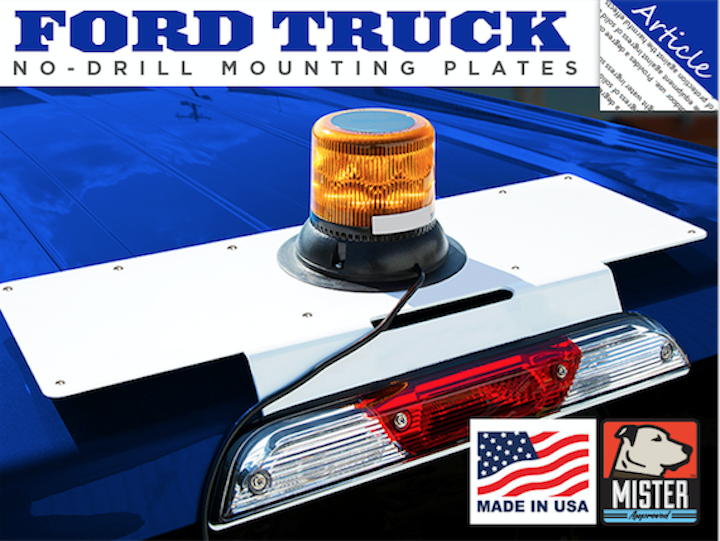 Truck accessories: The Ford F-150 trucks are widely recognized vehicles in the industrial sector, and are regularly offered as rental fleets to busy or expanding businesses.
When the car manufacturer swapped out the F-150's steel body for military-grade aluminum a few years ago, several essential features came with the replacement, including magnetic mounting.
This is a frustrating issue for fleet vehicle operators and businesses that frequently rent Ford F-150 trucks. Without a magnetic surface, individuals would be forced to drill or install other types of invasive mounting components, which can be limiting -- especially for rental fleet vehicles with strict 'wear-and-tear' guidelines.
As a solution, Larson Electronics launched the no-drill magnetic mounting plate for aluminum-body Ford F-150 trucks (2015 or newer). This innovative mounting option leverages a steel, magnetic plate, which can be secured on the rear cab of the truck.
Offering universal compatibility with a plethora of devices, operators do not have to change the plate when switching equipment, such as LED spotlights, beacons, moving arrows, signs, cameras, sensors and more. Equipment can be removed and mounted seamlessly by hand, without tools.
This accessory is constructed of steel, which directly reinstates the magnetic feature of steel-body Ford F-150 units. Operators can mount the plate on the rear cab lights of the truck. Made in Texas, the mounting device features a weatherproof seal and can withstand crippling winds while traveling at highway speeds.
The mounting plate does not require drilling and can be installed seamlessly without damaging the body of the truck.
Compatibility and Universal Applications
The Larson Electronics magnetic mounting plate for service fleets is compatible with aluminum-body Ford F-150 trucks 2015 and newer. We also offer models that are compatible with a third LED brake light, as well as trucks with a reverse camera. Color options include white, grey or black.
The versatile magnetic mounting plate can be used to support a wide range of equipment and lights, up to 20 lbs. Below are some examples:
• LED warning lights
• Moving arrows
• Beacons
• Temporary signs
• Flashers
• Cameras
• Speakers
• …and more
For more information about Larson Electronics or other products, click here to go to Utility Products' website.